With the Denver Nuggets already out of the playoffs and the NBA Draft a little over a month away, speculation on how the Nuggets will approach the draft and who it will take with the 22nd pick is firmly underway. Equipped with an enticing asset in Raymond Felton as well as the less attractive Al Harrington — both of whom are overshadowed at their respective positions by other teammates, thus making them somewhat trade-able — the Nuggets have the option to make a variety of moves if prompted.
As some of you might know by now, the Nuggets only possess one pick in this year's draft (No. 22 in the first round) due the Arron Afflalo trade in which we surrendered our second-round pick. Though it is near the back of the pack, it's extremely important to keep in mind how unpredictable things can get on draft day and how hard it truly is to evaluate potential prospects. Just going back to last year, Landry Fields of the New York Knicks, who was one of the best rookies in all of basketball and finished fourth in Rookie of the Year voting, fell all the way to the second round at pick No. 39. Ten picks before that, at No. 27, was the Washington Wizards' Jordan Crawford (you might know him better as "The Guy Who Dunked on Lebron"), who after being traded from the Hawks mid-season went on to have a stellar rookie campaign in which he finished off the season averaging roughly 20 points, five rebounds and five assists per game. Other notable accomplishments in Crawford's first year as a pro was a career high 39-point game against Dwyane Wade and the Heat, as well as a 21-point, 11-assist, 10-rebound triple-double against the Cavaliers. The point is: Every year there are a few players that drop way further than they should in the draft, and some that simply get overlooked or undervalued. Where the Nuggets are selecting this year, at the 22 spot, is a position that's primed to have a few sleepers available come draft day, so without further ado lets take a look at some of these potential candidates…
(In case you're curious, here's a list of players taken around or after the 22nd pick over the last few years: Darren Collison, Taj Gibson, Toney Douglas, DeJuan Blair, Marcus Thorton, Serge Ibaka, Nicolas Batum, George Hill, Jared Dudley, Aaron Brooks, Carl Landry, Marc Gasol, Rajon Rondo, Kyle Lowry, Paul Milsap and of course our very own Wilson Chandler and Arron Afflalo.)
Unlike when you're drafting near the top of the lottery, the later picks in the first round often times will be made to address team needs more than anything. As far as I can tell, the most glaring team need for the Nuggets is at the center or power forward position; basically, we need big men. With Nene still contemplating opting out of his current contract — which by the way, would land him $12 million next season — and Kenyon Martin set to become an unrestricted free agent, the only sure-fire bigs the Nuggets have locked down through 2012 are Koufos, Andersen and Mozgov. As lovable as these three eccentric, pale hustle players are, it would irresponsible for the Nuggets to bank on them alone doing all the front-court work through next season, so drafting a big with the No. 22 pick solves two problems: first, it will insure that in the event Nene and K-Mart don't return we'll have an extra body to put on the floor; and second, it addresses a need we've had for quite some time. So, here are the big men the Nuggets have a REALISTIC shot at obtaining with its first, and only selection in the 2011 NBA Draft:
Kenneth Faried // PF// Morehead State University
If there is one player in this year's draft that Nuggets fans should be praying to get, it's this guy. Since the 6-foot-8 power forward began his collegiate career, Faried has dominated the glass like no other player in modern era history. Of the top ten rebounding seasons in NCAA history, Faried owns four of them. Yes, even when Faried was a freshman he was putting up one of the ten-best rebounding performances of all time, and he continued this amazing trend throughout his career. No other player has even landed twice on that list, and it's no surprise that this dominance has resulted in Faried owning the record for most rebounds ever hauled down in an NCAA career. But although rebounding is certainly Faried's clear-cut strength, it's not the only thing that makes up his basketball DNA.
Faried is the epitome of a hustle player, who takes pride in doing the dirty work. His motor is unlike anything I've seen coming out of college. He virtually never stops working; whether it's getting position down low, setting precise picks, diving on the floor for 50-50 balls, following up missed shots or making a stealth-like steal, Faried is guaranteed to be doing it harder and faster than anybody else on the court. It's like he's always in overdrive or playing in the midst of the NCAA Tournament; he just doesn't stop working.
Athletically Faried is above the cut. He's long, skinny and can jump out of the building when prompted, which often times leads to monster dunks, blocks or well-timed put-backs. Though his offensive game is not nearly where it needs to be entering the draft, it's almost irrelevant because no team is going to draft Faried to put points on the board. That said, Faried excels around the rim and because of his ability to snatch virtually any rebound within his vicinity, he's able to get his fair share of points. He's very similar to Kenyon Martin in this aspect, where his offense is largely generated off other teammates misses.
Faried certainly has areas of his game where he needs to improve, but the overall package and value is just too tantalizing to pass up if he were still available at No. 22. Faried is exactly what this Nuggets team needs and I will be overjoyed if we are able to draft him. The only problem: This is an extremely weak draft by most accounts, so good players like Faried aren't gonna last long. Most mock drafts have him right around the 20-25 spot, but there's a good chance he could go somewhere in the lottery if the right team falls in love with him. Let's just pray high-energy rebounders are not a huge need for the 21 other teams before us on draft night.
Davis Bertans // SF // Union Olimpija Ljubljana
This is a guy who I have personally anointed one of the most intriguing prospects in this year's draft from both the Nuggets standpoint, and in general. Everything I've read and seen on Bertans has been impressive. He's a 6-foot-10 small forward from Latvia who has a great feel for the game, as well as a lights-out shot from beyond the arc. Though he is what NBA draft analysts like to refer to as a "tweener," that doesn't defer me one bit from drooling over his potential (and yes, I know how dangerous that sounds when you're talking about foreign prospects). A big part of the intrigue surrounding Bertans is the fact that he's only 18 and still growing at a rapid speed (eight inches in the last two years). He's also extremely versatile (there's really nothing Bertans can't do on the court) and can run the length of the floor like a gazelle. But to me, the most impressive thing about Bertans is the simple fact that he appears to be a basketball player at heart. Often times, guys with his attributes are forced to play basketball, but Bertans really plays like he loves what he does.
This is the exact type of guy teams across the league have been searching for ever since Dirk Nowitzki shattered the notion that Europeans couldn't be franchise players in the NBA. He's tall, lanky, able to create his own shot and most of all very smooth in the way that he operates. Bertans, though primarily a spot-up shooter on his European team, has somewhat of a veteran feel with the ball in his hands. He's a very good passer for his size and seems to make good decisions with great frequency. That said, Bertans does shoot way too often and can get sloppy, but I see this more as a result of playing in Europe than anything. Also, because he is so young and his body is still developing, Bertans might be a bit of a project, which is not necessarily what the Nuggets need at this point.
In general though, I really like Bertans for a few simple reasons: (A) He's got a great combination of size and a versatility that's rare to see in the NBA (think along the lines of Kevin Durant), (B) He's still growing at an astounding rate, and (C) He can flat out shoot from NBA range with no problems whatsoever. These types of strengths combined into one package are hard to find. I know we see this exact type of scouting report all the time in the draft, and way more often than not they just turn out to be mediocre role players or busts — and to be quite honest, there is a great chance Bertans could be in that same boat — but just going off the eye test, I liked what I saw from Bertans and I don't think he'd be a bad pick if we were to take him at No.22.
Trey Thompkins // PF // Georgia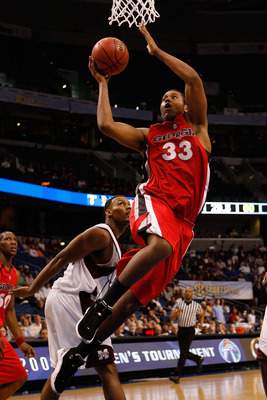 Coming out of high school, and for his first few season in college, Thompkins was one of the more interesting prospects on the NBA radar. Unfortunately, his game has since taken a major hit in production and because of this Thompkins finds himself likely to be taken somewhere near the latter part of the first round. At 6-feet-9-inches and almost 250 pounds, Thompkins is a prototypical power forward. Though he can stretch the floor and convert a descent percent of his shots from downtown, Thompkins' specialty is operating within the confines of the low post. He has a silky-soft touch, excellent footwork and an array of different post moves he utilizes to expose his opponents with. Scoring is certainly Thompkins greatest strength, and because he's somewhat limited in terms of athleticism, he's developed an extremely crafty post game similar to the likes of Zach Randolph. Thompkins is also viewed as having a fairly high basketball IQ which contributes to his firm understanding of the role he plays and where he needs to be on the court in order to maximize his team's chances of winning. But although he resides most often times in the post, Thompkins does possess a strong ability to run the floor or find the open man when in a precarious double-team.
As previously mentioned, though Thompkins does appear to be enticing in terms of skill level, there are some big question marks when it comes to his progression as a player. After an impressive sophomore campaign, Thompkins has seen his production dip across the board in many major statistical categories. Scouts were thrilled with Thompkins before the 2011 season began, projecting him as one of the best big men in the country, but he never really fulfilled these lofty expectations as a junior. On top of this, Thompkins has had issues with conditioning which have led to inconsistent play and energy, mostly on the defensive side of the ball. He is not a jaw-dropping talent in terms of athleticism and because of this, many question just how far he can go in the NBA. Nevertheless, Thompkins is reportedly a hard worker, and if he can continue to improve his physique there's no doubt he can become an established player in the NBA.
Lucas Nogueira // C // MMT Estudiantes
Of all the big man prospects the Nuggets will be taking a look at in this year's draft, Nogueira is bar-none the most fascinating in terms of potential. Standing 6-foot-11 with a 7-foot-6 wingspan and only 18 years of age, Nogueira is an athletic specimen to behold. Though he is still extremely underdeveloped (roughly 210 pounds) and has tons of work to do in nearly all areas of his game, there's no question Nogueira has as much potential as any big man in this year's draft outside of Derrick Williams. He's an athletic freak of nature who jumps as if he has mini packages of dynamite taped to the bottom of his shoes that explode every time he leaves the ground, and more often than not this is used to block someone's shot — his specialty — or slam home an emphatic dunk. His wing span and overall length are making scouts salivate, but teams in the NBA can only wait so long before they need that full meal, and with Nogueira this might be a problem.
As noted, 18 years of age, 200 pounds and a raw skill set is the definition of a "project" in NBA terms. There's just no telling how long it's going to be before Nogueira would suit up for whatever NBA team selects him. Maybe it will be a year, maybe two, but either way you're going to have a wait before you're blessed with his services, and even then it's going to take some time adjusting to the NBA game. Furthermore, Nogueira has some question marks in terms of personality; often times he's found hanging on the rim when his teammates are back in transition, and other times he's getting in trivial scuffles with opponents. Then there are those who question his motivation(he can be lazy at times, especially on defense), drive as well as his overconfident bravado (he already believes he's a star). But the underlying question scouts are asking is: How can you really pass up on such a promising prospect? If Nogueira fills out, keeps his head on straight and continues to refine his skill set, we could be looking at a game-changing center in the NBA.
In my eyes, I'd have to think that Nogueira is pretty high on Masai's draft board. We still desperately need that defensive-minded center, and this is as good as it gets for where we are selecting. In addition to being from Brazil, Nogueira also goes by a shorter alias very similar to Nene — "Bebe" — and this naturally makes you wonder how cool it would be to have two solid big men from Brazil next to each other in the front court name "Nene" and "Bebe." It almost seems destined to be, but Nogueira has been rising fast on draft boards so he might not be around by the time we pick. However, if he is still there at No. 22, don't be surprised if you hear his name as it makes the most sense in a variety of different ways.
Tobias Harris // SF // Tennessee

The best way I can describe Harris is Josh Smith minus the athleticism. He's a solid all around player, capable of doing almost everything on the basketball court, but doesn't excel in any one aspect in particular. He has a very high basketball IQ and is known for his versatility. Standing at 6-foot-8 and weighing roughly 210 pounds, Harris resides on a solid foundation with very broad shoulders and an overall thick structure. He won't blow you away with his quickness and athleticism, but he makes up for it by playing smart, fundamental basketball. He can run the floor, has good ball-handling abilities and can finish pretty well around the rim. His shot is decent, but he's certainly not known for being a knock-down shooter. Harris is basically a utility man, doing anything you ask of him pretty good, but not overwhelmingly great.
Because he's only 18, many see Harris as somewhat of a sleeper in this year's draft. The problem scouts are having is analyzing where he fits in the NBA. Many believe he's not quite quick enough to hang around with some of more athletic wings, and conversely not tall enough to defend power forwards either. There's no question from what I can see, that Harris is currently a small forward in the NBA, as his skill set most represents this position; but if he can continue to grow, which seems likely considering he's only 18, then there's a good chance Harris could eventually mold himself into a highly skilled power forward. I don't see Harris as a player that would address any needs the Nuggets possess, but I really like what I've seen and read about him, so I wouldn't necessarily be disappointed if we were to take him.
Chris Singleton // SF // Florida State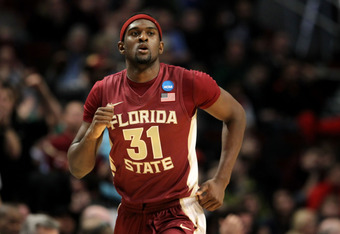 Singleton is a 6-foot-8, athletic wing who specializes in defense. Though he is a small forward and will likely continue to play that same position at the NBA level, Singleton has the ability to guard nearly every position on the floor. He possess a long frame and because he's so athletic, is able to move at an astounding pace in nearly all directions. His numbers in both the steals and blocks categories have always been impressive, but his offensive game is what most scouts have been concerned with. Yet, in 2011 (his junior season) at Florida State, Singleton showed vast improvements in many offensive aspects of his game — most notably his jump shot — much to the delight of  NBA general managers and talent evaluators alike. Though he still needs to refine his offensive game, especially in terms of creating his own shot, it's really Singleton's defense and intensity that NBA teams are going to be drafting him for. He flat out appears to be one of the best, most dedicated defenders coming out of college, and when consider the fact that he's known as having a good personality and attitude, Singleton appears to be a lock to at least make an impact in the NBA. Much like Harris, Singleton doesn't necessarily fill a void for the Nuggets — especially if Wilson Chandler is here — but I don't think you could be upset if we were to take him, as his future in the NBA looks bright.
Conclusion: Again, the players listed here are simply the big men the Nuggets have a realistic shot of obtaining with the No. 22 pick in the draft. In the upcoming weeks we'll look at some potential trade possibilities in both the first and second rounds, as well as those players the Nuggets should consider moving up for in the draft. Although big men are an important target, there are still some very talented guards that will likely be hanging around come the Nuggets' pick, which we will evaluate as well. Stay tuned, enjoy the playoffs and remember to follow me on Twitter @24kGoldenChild if you aren't already!
The following two tabs change content below.
Kalen Deremo
Kalen was born in Durango, CO, in 1988 and graduated from Metropolitan State University of Denver in 2013 with a degree in journalism. He's now an itinerant hoping to travel as much as possible before eventually succumbing to the "real world." Aside from writing Kalen likes movies, music, spicy food and the great outdoors. Edward Abbey is his current idol.
Latest posts by Kalen Deremo (see all)