With the No. 22 pick in the first round of the 2011 NBA Draft, the Nuggets have a lot of options to consider. Should we go big, regardless of what talent lurks at our selection, or should we simply take the best player in the draft discarding any specific team needs? Though I believe it would be in the Nuggets best interest to select the best available big man, there's no doubt that some of the most talented players hanging around at No. 22 will likely be wing players and point guards, therefore the Nuggets big board needs to take into consideration a combination of these two draft strategies.
After thorough research and analysis, this is the early list Roundball Mining Company has determined will give the Denver Nuggets the best chance of nailing its first round selection (keep in mind the order of the prospects, as the intro mentions, is based on a strict formula that places value on height first, then overall talent):
1. Kenneth Faried // PF// 6'8″ // Morehead State // Senior
This should come as no surprise to the followers of this blog, as Faried has been high on our list since Day 1. After getting rave reviews from the combine, specifically from NBA Draft expert Chad Ford, Faried has seen his stock rise quite a bit recently. Once thought of as a late first-rounder, Faried is now projected to go somewhere in the latter part of the Lottery. If Faried does however spiral downward on draft day, the Nuggets shouldn't even hesitate to phone his name in as our selection if he's still available.
After watching Faried at the combine, two things became very clear to me: (A) he was the hardest working guy on the floor 100 percent of the time, and (B) he's got a lot of work to do offensively. I don't know how else to put it, but saying Faried's offensive game is "raw," would be a massive understatement. At one point, he missed roughly six to seven shots in a row from about 10 feet away from the basket with nobody guarding him during one of the drills. But keep in mind, Faried is an athlete and he's lanky, both of which enable him to maneuver around the basket and dunk with ease. He's never going to relied upon as a go-to scorer, but with time he should become more polished offensively; defensively however, this guy is already a pure stud. His motor is unrivaled (although Markieff Morris was giving him a run for his money at one point), his rebounding is text book, his instincts are fierce and his dedication to being one of the best defensive specialists has already been well documented. But the thing that stand out to me most about Faried: He's ready to contribute right away and you know exactly what you're getting if you draft him. Faried is the opposite of a gamble and at No. 22, that's exactly what we need.
2. Jeremy Tyler // C // 6'11" // International // 19 years old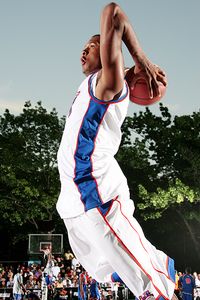 Quite honestly, this kid could be No.1 on the Nuggets big board as far as I'm concerned. He's one of the biggest, most talented athletes in the draft and has the skill set to dominate at the NBA level. According to Chad Ford the Nuggets are one of several teams showing a vast amount of interest in Tyler, and it should come as no surprise given our biggest needs and how well Tyler fits it. Working out at the Combine, Tyler was one of the most impressive athletes in attendance measuring in at 6-foot-11, with a 7-foot-5 wingspan and a near 30-inch vertical.
Before we continue, here's a quick rundown of his career up until this point in time for those unfamiliar with the mysterious big man: Basically, as a sophomore in high school, Tyler was rated either the top prospect, or very close to it by nearly every prominent talent evaluator in the country. Once his junior season rolled around, Tyler continued the overwhelming dominance of his peers, but apparently became so bored with the competition that he decided to forgo the senior season of high school to play overseas until he was eligible for the NBA Draft this year. Well, things didn't exactly go the way Tyler had invisioned, as the next few years of his life were largely spent feuding with coaches, remaining aloof from his teammates and not making near the amount of progress many envisioned before his departure. He was often times cited as acting immature and arrogant, even going so far as to claim he and his girlfriend, Erin Wright, daughter of rapper Eazy-E (aka Eric Wright), would one day grow up to be a hailed American celebrity couple.
Fast-forward to May 2011, and it looks as though Tyler has grow up… a lot. The once naive child trapped in a man's body seems enlightened now that he's returned from overseas, appearing appreciative and humbled by his journey. Tyler had one of the most impressive interviews at the NBA Draft Combine in Chicago, in which he elucidated on his transformation, stating, "I was definitely immature when I got there." When asked if he had the choice to go overseas again, Tyler said, "Definitely… but do it differently. I'd be more professional on and off the court… I'd be lying if I told [you] it was easy; it definitely wasn't easy… I wanted to challenge myself… I feel like I wouldn't be the player I am now if I wouldn't have done that… I grew up… I've been through a lot, and I think I'm physically, mentally and emotionally ready to play in the NBA."
So what do we make of this enigma that could potentially be an All-Star or conversely, a mirage? My take is this: Tyler made an incredibly bold and impetuous decision without fully understanding exactly what he was getting himself into. At 17, I think most of us can agree, you're in no position to be making life-altering decisions like the one Tyler did. Thinking back to when I was that age, there's no telling what folly choice I'd make if given the opportunity. But the amount of progress Tyler has made since that point in time — both as a player and person — is what really captivates my interest more than anything. He's shown that he's a conscious thinker who understand his mistakes and what he needs to do in order to keep improving. He's now carrying himself with an entirely different demeanor — mature, insightful, grounded — instead of the bombastic bravado he previously employed. With Tyler, you always had the classic case of the guy who held all the talent in the world, but was too caught up in his own ego to ever fully realize it… until now. I firmly believe this foreign campaign hardened Tyler, forcing him in the process to finally "get it." It appears Tyler is now appreciative of things he previously took for granted, and I think his experience has turned him into a man, ready to conquer the NBA through hard work and dedication. Though I may be wrong, I'd be willing to take my chances with this kid. He has all the tools in the world to succeed at the next level, and now, finally appears to have the brain power to match. We all saw how Brandon Jennings' stock dropped after being one of the most highly-touted prospects coming out of high school when he "took his talents" to Europe, and I feel the same thing has happened to Tyler, except on a more exaggerated scale. When it's all said and done, this kid could end up being the steal of the draft, and it's in the Nuggets best interest to understand the potential harnessed within this prospect.
3. Marshon Brooks // SG // 6'5″ // Providence // Senior
If Nene and Kenyon Martin were still under contract, Marshon Brooks would likely be atop our list; however, because of the uncertainty surrounding the Nuggets front-court rotation we've placed a significant amount of importance on big men this draft, thus, Brooks finds himself demoted from the top position, yet still high on our list due to another uncertainty: J.R. Smith.
With Smith seemingly on the way out of Denver, the Nuggets will be looking for another scoring threat of the bench and Brooks fits that bill. One of the steadiest climbers in this year's draft, Brooks has impressed scouts and GMs alike during workouts in nearly every possible area. His 7-foot-1 wingspan is close to what the average power forward measures in at, yet he only stands 6-foot-5 with shoes on. This freakishly long guard used these advantagous features to light up his competition in route to a 25-point, seven-rebound, three-assist, two-steal and one-block per game season this past year, as well as a career-high 52-point outburst against Notre Dame, which set the Big East record for most points scored in a single game. Brooks also broke the Big East record for most points scored in a single season this year with 468, which enabled him to finish second in the country in scoring.
Perhaps the most intriguing part of Brooks game that scouts will be paying much closer attention to in upcoming weeks is his defense. His extremely lanky frame and elite athleticism (second highest standing vertical jump a the Combine) are features that Brooks must utilize to his advantage at the next level, though by looking at his steals and blocks numbers, he may already have figured this out. Should he develop into a stud defender, Brooks will have had it made, as his offense is already on par with the best shot creators in the NCAA. Watching Brooks operate, you almost get the feeling like he's a step ahead of everyone else, but on the surface he's smooth and impromptu. It's because of this style of play, that he's drawn comparisons to Kobe, yet according to Chad Ford it's really his demeanor and fiery attitude that are more similar to Kobe than anything. Brooks will never actually be Kobe, but it's not often that Kobe comparisons get thrown around, which is certainly saying something about the fast-rising shooting guard out of Providence.
4. Lucas Nogueira // C // 7'0″ // International // 18 years old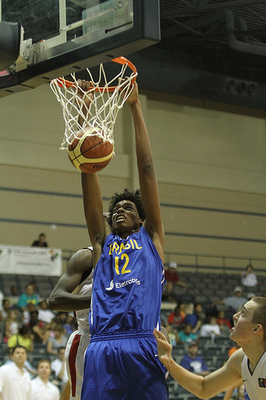 Nogueira is an athelete who not long ago I had ranked as the second best option for the Nuggets at 22. If you haven't already, please take some time out to check out my Prospecting article I wrote a few weeks back, as it goes into much more detail about Nogueira than what will follow. Though I am still extremely high on this athletic big man from Brazil, a few revelations have surfaced that unfortunately have decreased his chances of being drafted by the Nuggets.
First and foremost, unlike many of the other athletes in this year's draft, Nogueira has yet to participate live in front of talent evaluators at some sort of workout recently. This means that all of the information gathered on "Bebe" — his nickname in Brazil — has to come from overseas scouting and a 13-minute performance at the Nike Hoops Summit this past April. Though he did have an impressive showing at the Summit for what minutes he was given, and has looked good playing for MMT Estudiantes, the fact remains: If he's not working out in front of scouts, then there's no way for him to improve his draft stock, or even stay put for that matter, as so many other athletes are giving impressive showings, raising their draft stocks and overtaking Nogueira in the process.
The other reason the likelihood of Nogueira becoming a Nugget seems to be diminishing is because of the increasing notion that it's going to be at least a year, and probably two, before he even makes it to the NBA. In other words: Nogueira is shaping up to be a long-term prospect, and that's not what the Nuggets need while in the midst of a potentially precarious roster overhaul that could jeapordize its streak of consecutive 50-win seasons. Bottom line: With the first first-round selection the Nuggets have had in years, we need to nail this pick and land a guy that's going to be able to contribute right away. To be honest, the only way I can see us drafting Nogueira at this juncture is if Nene and/or K-mart pledges to verbally re-sign with the Nuggets prior to the Draft. If this is the case, then Nogueira should be high on our priority list.
5. Nikola Vucevic // C // 7'0″ // USC // Junior
Though you say, "Another European stiff?" I say, "Quite possibly one of the most underrated players in the draft," (key word: "possibly"). Ever since I began researching this draft, one guy has consistently impressed me time and time again, and that was Vucevic. At the surface he looks like another immobile big man from across the pond, but look a bit deeper and you get this: a legit 7-footer with a 7-foot-5 wingspan (the tallest player at the draft thus far), weighing in at 260 pounds with only six percent body fat (pretty incredible); a 35 percent shooter from beyond the arc; the Pac-10's 2010 Most Improved Player of the Year; All-First-Team Pac-10 member; the Pac-10's leading rebounder in 2011 (third leading scorer to boot); and most importantly, a guy who according to some GMs, thoroughly outplayed projected top five pick, Enes Kanter, at the Combine. As far as his game goes, Vucevic is a prototypical European big man; he's got an extremely soft shooting touch, can stretch the floor big time and has a nice handle. Unlike most Euros however, Vucevic can rebound with the best of them and can occasionally play solid defense (no offense Euros, but that's not what you're known for). Of course, Vucecic does have his downfalls, as he's mundane in the Athleticism Department, which was on full display at the Combine where he finished in the bottom five in nearly every drill that measures athleticism.
All in all, Vucevic is one of those guys who you know prior to drafting exactly what you're gonna get, much like Faried. He's never going to be a star, but instead, he'll be a great roll player and most likely a premier back-up center in the NBA. His shooting touch and feel for the game will allow him to adjust well and carve out a distinct niche at the next level. If you're going for potential, this isn't the guy for you, but if you want someone who can come in and contribute right away — someone who will score a few points and haul down some rebounds — then this is your man.
Other candidates to consider:
(Note: After finishing this column I realized we probably already have our very own Vuvevic in Mozgov; therefore, any of the following will likely do as a fine prospect for the No. 5 position on Roundball Mining Company's Big Board.)
Reggie Jackson // PG // Boston College — An extremely athletic point guard who can play both guard positions, and is from Colorado. Has great court vision and an excellent ability to finish around the rim.
Tobias Harris // SF // Tennessee — It's not likely Harris falls to No. 22, but if so, it would be in the Nuggets best interest to consider him. Doesn't do anything particularly well, but does nearly everything good. Is tall, strong and young. Looks to be a big time utility man on the next level.
Charles Jenkins // PG // Hofstra — Showing great skills at workouts. Tremendous scorer and shooter, but can distribute nearly just as well. Strength is to create his own shot, one of the best in the draft at it.
Josh Selby // PG // Kansas — Top prospect coming out of high school, but struggled his freshman year. Could be the steal of the Draft. Excellent scoring ability, but is a tweener in that he plays like a SG, but isn't tall enough to be one.
Follow me on Twitter @24kGoldenChild
The following two tabs change content below.
Kalen Deremo
Kalen was born in Durango, CO, in 1988 and graduated from Metropolitan State University of Denver in 2013 with a degree in journalism. He's now an itinerant hoping to travel as much as possible before eventually succumbing to the "real world." Aside from writing Kalen likes movies, music, spicy food and the great outdoors. Edward Abbey is his current idol.
Latest posts by Kalen Deremo (see all)