In the upcoming Draft, the Denver Nuggets will likely steer towards selecting the best player available at No. 22, with small forward being the exception due to the current bounty already on the roster (Gallinari, Chandler & Harrington). Exercising this strategy means putting the franchise at risk of potentially taking a player who doesn't necessarily fit a position of need. With Ty Lawson appearing to be the perpetual starting point guard of the Nuggets for years to come and Raymond Felton still on the roster (nominally, at least), the demand for another point guard isn't quite a Mile High right now in Denver. But what happens if the best player available at No. 22 just-so-happens to be a point guard? Do we take that player and groom him into a back-up behind Lawson, who similarly played this exact role behind Billups? Or do forgo this opportunity in order to address a more pressing position of need? It's tough to say, but just in case this situation plays out on draft night, Roundball has you covered as to which players might pose this conundrum, and which — if any — are worthy of selecting.
Charles Jenkins // 6-3 // Hofstra // Senior
The story behind Jenkins rise to the summit of the list of point guard prospects heavily considered by Roundball Mining Co. can almost entirely be attributed to a reader by the screen name of "Slader." About three weeks ago when I started doing thorough research of this draft, Slader mentioned some guy out of Hofstra who I had heard of, but never put much stock into as I was entirely focused on the Nuggets drafting a big man. Yet, as time progressed, Slader continued to endorse his man and it seems the entire country caught on as well. Jenkins is now seen as one of the most valued prospects in this draft, and one who will likely be available by the time the Nuggets select.
To say Jenkins is purely a scoring machine would be an understatement; he's an efficient scoring machine, one of the best in this year's draft — and his passing ain't half bad either, in fact, it's excellent. The two-time CAA (Colonial Athletic Association) Player of the Year and three-time (all in a row) Hagerty Award winner (given to the best player in the New York metro area), finished fourth in the nation last year in scoring on at least 50 percent shooting from the field, 40 percent from downtown and 80 percent from the line, all while averaging 4.8 assists and 1.7 steals per game in the process. If you haven't already, I strongly urge you to read "Numbers reveal NBA draft's most complete player, biggest sleeper" by Luke Winn of SI.com (suggested by Slader), as it details Jenkin's incredible shooting abilities much better and more in depth than I'm able to. Here is a small taste:
A further breakdown of Jenkins' 2010-11 numbers only bolsters his case as a high-value pick in the late first round, or early in the second. As the focal point of the Pride's offense, he was rarely left unattended — 63.4 percent of his catch-and-shoot opportunities came with a man in his face — yet showed an ability to make tough jumpers. His efficiency on guarded shots off the catch was 1.3898 PPP, which ranked 15th nationally among players with at least 50 such possessions. And while Jenkins shoots right-handed, he can go left off the dribble better than anyone in the draft: He had a national-best efficiency of 1.3261 PPP on left-hand drives, which he did 59 percent of the time.

Jenkins is also a rare master of the mid-range game, which has largely disappeared from college hoops as teams run offenses focused on threes and layups. At 1.2069 PPP, Jenkins was the most efficient mid-range player scorer in the nation last season; the runner up was Ohio State's William Buford — who could be a 2012 first-rounder — at 1.0333 PPP.
Additionally, Winn states that of the other combo guards considered to be elite in this draft (Fredette, Burks, Brooks, etc.), Jenkins proved to be the most efficient in isolation situations and second most efficient — next to Jimmer — in spot-up situations.  And although the numbers are enticing, it's the analyst (or should I say "expert"?) proclamations that really intrigue me, like this one from Doug Gottlieb in which he recently stated, "Having seen Jenkins dismantle Kemba and Jerome Dyson  over a year ago in Storrs, and after poring over a ton of film on the two, it is my belief that Jenkins is a smarter, better play than Walker in the first 20 picks."
Wow. Though I don't always put that much stock into what Doug Gottlieb has to say regarding mid-major player-analysis, as a flourishing Jenkins fan, I must admit, I kind of want a piece of this.
Josh Selby // 6-2 // Kansas // Freshman
Unlike the aforementioned Jenkins, this point guard prospect has the potential to one day become a franchise level player in the NBA — at least in my opinion. Coming out of high school Selby was ranked as the No. 5 overall recruit by ESPN and No. 1 overall recruit by Rivals.com, ahead of prestigious prospects like Enes Kanter, Harrison Barnes, Kyrie Irving, Jared Sullinger, Brandon Knight, Tobias Harris, Perry Jones and Terrence Jones. To put this high praise into perspective, of all the players mentioned above, only Harris and possibly Jones are slated to land outside the top 10 of either this year's draft or the already infamous 2012 NBA Draft. So why is Selby ranked so low, putting him in a position to possibly be selected by the Nuggets at No. 22? There are an array of different reasons, but his less-than-stellar freshman season at Kansas is likely the primary culprit.
With extremely high expectations coming out of high school, Selby was relegated to the bench his first nine games of his collegiate career due to recruitment violations in which he sought advice (amongst other things) from — ironically — Carmelo Anthony's business manager, Robert "Bay" Frazier. (In case you're wondering, yes, Selby has a relationship with Carmelo Anthony as well, which kind of scares me knowing he could be drafted by the Nuggets.) After the suspension Selby erupted for 21 points and a game-winning shot, but this successful stint didn't last long, as eventually Selby's minutes were slashed — partly due to attitude problems and partly due to a lack of production when given the opportunity. After one season at Kansas, Selby finished the year averaging a measly 7.9 points, 2.2 rebounds, 2.2 assists and two turnovers per game on a disastrous .373 percent from the field. Needless to say, Selby's freshman year at Kansas was a forgettable one.
So what do we make of Selby's troublesome, inefficient one-and-done season at Kansas? Honestly, not much. What often gets brushed under the rug with Selby is the fact that he was also haunted by nagging injuries all last year and never really got a full opportunity to play big time minutes. Granted, some of this was probably due to a shaky attitude, but only three times the entire season did Selby play over 30 minutes and all three occasions were in the first seven games of his collegiate career.
To me, the fact remians: All that talent from high school didn't just get up and walk away. Selby's freshman year is an anomaly, not a trend. In fact, since he departed from Kansas, Selby has garnered high praise for his attitude, interviews and on-court leadership in workouts. He's apparently shown a strong commitment to improving the weaker aspects of his game as well as taking advice from his coaches. If the Nuggets were to draft Selby, his "buy low" value would be a steal at 22. He'd likely take a year or so to fully develop, but in the end we could be looking at the most lethal point guard tandem in the entire league, as Selby's ability to create off the dribble would be an excellent counter-punch to Ty's speedy distribution techniques.
Iman Shumpert // 6-6 // Georgia Tech // Junior
Shumpert is the classic case of, "the more you see, the more you like." Originally touted as an early to mid-second round selection, Shumpert has drastically elevated his stock as of late due to freakishly athletic measurements at the combine and solid team workouts. Currently, Draft Express has the Nuggets taking Shumpert with the No. 22 selection, and there seems to be a good chance this prediction comes to fruition on draft night.
After giving a now notoriously impressive showing about a week ago for the Nuggets in which he reportedly jumped out of the building on a few occasions, Shumpert has most likely solidified his case as a player the Nugget are willing to select if still available at 22, especially when you consider how good of a fit he would be to the team.
With J.R. and Felton likely on the way out, both backup guard positions should be vacant, and that's where Shumpert comes in. As an underclassmen, Shumpert saw most of his minutes by way of point guard in which he averaged a very respectable 10 points and 4.5 assists per game, but as a junior this past season, Shumpert's role was drastically increased and as a result he transformed his overall game and numbers for the best.
In 2010-11 Shumpert finished up the season averaging 17.3 points, 5.9 rebounds, 3.5 assists and an incredible 2.7 steals per game, the highest amongst all prospects slated to be drafted. Throughout the year Shumpert notched eye-popping performances on the regular including a 24-point, 10-rebound, four-assist, four-steal performance against Albany; a 28-point, nine-rebound, eight-assist, four-steal performance against Charlotte; and a 22-point, 12-rebound, 11-assist, seven-steal triple-double (nearly a quadruple-double!!!) against Virginia Tech.
Continuing his numerical dominance, Shumpert tested out as the undeniable king of the athletic measurements at the Draft Combine in Chicago. There, Shumpert finished first in both the standing and maximum vertical, while also finishing third in bench reps (by just one) behind much bigger forward prospects Derrick Williams and Justin Harper. His vertical leaping ability in both categories tied the record for the best result in the last seven years and his maximum vertical was only one inch shy of Vince Carter's legendary measurement in 1998. Shumpert also measured in with a lengthy 6-foot-10 wingspan and a toned 6.5 percent body fat. Perhaps Matt Kamalsky of Draft Express put it best, when he stated, "Iman Shumpert stole the show at the combine, looking like clearly the most physically gifted player in this entire draft class."
But although the numbers are tantalizing, it's Shumpert's overall game that should intrigue Nuggets fans across the globe. Not the best shooter nor decision maker in terms of shot selection, Shumpert still managed to find his way to the line on a consistent basis where, along the way, he displayed great finishing ability and converted 80 percent of his free-throw attempts. And though the 17 points per game Shumpert averaged his junior year are promising, it's his defense that's his real strength, as scouts continue to label Shumpert one of the best defenders in this entire class.
Other potential prospects:
Reggie Jackson // 6-3 // Boston College // Junior
This is a guy who probably deserves his own profile similar to the ones above, but because of a knee injury that recently required surgery, his stock has taken a significant hit, causing nearly all mock drafts to have him going after the Nuggets selection at 22. Still, there's a very strong possibility Jackson is on the Nuggets radar, and if the Colorado native can manage to impress in upcoming workouts once his knee heals he should shoot up draft boards and garner close attention from the Nuggets come June 23rd.
A brief synopsis of his game: Jackson is a very well-rounded combo guard capable of doing nearly everything on the floor. He's athletic, can score in a variety of different ways and shoots at one of the most efficient clips of any player coming out of college. His lanky frame and quick feet allow him to defend fairly well, but because he's somewhat slender, he also has trouble mixing it up and fighting off screens. Still, Jackson is a solid all-around prospect with no glaring weaknesses and a game that looks to translate well to the NBA.
Nolan Smith // 6-4 // Duke // Senior
As most who follow college basketball know, Smith had an incredible senior season last year at Duke where he averaged 20.6 points, 5.1 assists and 4.5 rebounds per game on his way to winning the ACC Player of the Year award as well as a First-Team All-American spot. Smith, like Jackson, is a well-rounded player, yet his pedestrian athleticism (by NBA standards, though the above photo seems to prove otherwise), forces him to rely on a more cerebral approach to the game, which isn't necessarily a bad thing.
Smith by no means has any "red flags" but there are some question marks as to how well his game will translate to the NBA. For example, can he play point guard effectively at the next level and if not, how can he be expected to play shooting guard without elite athleticism? The bottom line for me: At 22 the type of talent available is still going to be premier, so by selecting Smith — a likely role player at best — we would be wasting a chance to snag somebody with worlds more potential. Further on down the line Smith should be a great pick, and if we happen to trade down I wouldn't be opposed to selecting him, but first-round selections should be reserved for the prospects that make you salivate, and Smith just doesn't cut it in this department.
Darius Morris // 6-5 // Michigan // Sophomore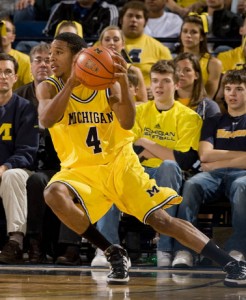 Morris is a guy whom I really like personally, though I'm not sure how well he fits with the Nuggets as currently constructed. He's a pass-first point guard who averaged 6.7 assists per game last year — the most of anybody slated to be drafted — who comes equipped with great size and craftiness. He won't wow you with his scoring ability, but he's certainly able to get his, evident by the 15 points per game scoring average he amassed last season.
The problem with Morris, like Smith, is that he doesn't necessarily fit an area of need for the Nuggets, as we already have one of the best young pass-first points guards in the league in Ty Lawson. With the 22nd pick, it's imperative that the Nuggets land a player who doesn't duplicate another we already have, as there are too many areas of need to pass up on. Again, if we were able to trade down Morris might be in the cards, but at 22, I think a scoring guard should be more of a priority than a distributing one.
Final Thoughts:
When I originally started this break-down of potential guard prospects, I planned on ranking them — and though they are still somewhat ranked in order — I came to the conclusion after finishing my analysis that I simply can't state with confidence where each one belongs in relation to another. The first three (Jenkins, Selby and Shumpert) are undoubtedly my personal favorites and ones who I believe would fit best on the team, while simultaneously offering a great deal of upside, but they are all so unique and promising in their own different ways that I just couldn't definitively codify them without feeling somewhat dubious about it. I think should the Nuggets select either of the first three prospects it will be a solid choice at No. 22, but I still maintain that a big man is priority numero uno.
Stay tuned as Roundball Mining Company will soon unveil its Big Board 2.0, that will rank all the potential prospects covered over the last few weeks by taking into account team needs, potential, athleticism, skill level, etc.
Follow me on Twitter @24kGoldenChild
The following two tabs change content below.
Kalen Deremo
Kalen was born in Durango, CO, in 1988 and graduated from Metropolitan State University of Denver in 2013 with a degree in journalism. He's now an itinerant hoping to travel as much as possible before eventually succumbing to the "real world." Aside from writing Kalen likes movies, music, spicy food and the great outdoors. Edward Abbey is his current idol.
Latest posts by Kalen Deremo (see all)