With the NBA Draft now less than a week away, it's time Roundball Mining Co. unveils it's top ten prospects, ranked in order, from the one guy fans should be dying to get, to just a flat-out solid prospect. Factors included in determining the player-rankings were mostly size, potential, athleticism and overall skill level. Keep in mind, all the players codified in this post are ones that will likely be available when the Nuggets select at No. 22. You won't find Bismack Biyombo on this list, because 21 NBA teams are smarter than to pass up on a guy that talented, even if he is 24-years-old. So, without further ado, I give you the official Denver Nuggets Big Board 2.0!
1. Kenneth Faried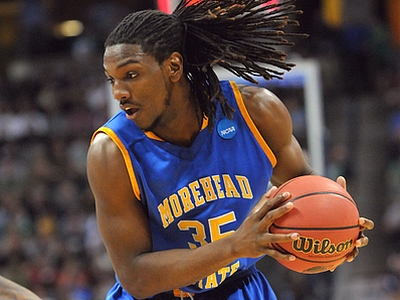 Estimated availability: 35 percent
Greatest strength: Rebounding, defense
Concerns: Offensive ability
Best case scenario: Denis Rodman
Followers of this blog know how high we've been on Faried since Day 1. His greatest strengths have been the Nuggets most glaring weaknesses for years. A four-year student-athlete, Faried would likely be able to contribute right off the bat and patch up the Nuggets rebounding woes for many seasons to come. Unfortunately for Nuggets fans, Faried's stock has sky-rocketed over the last few months, and the most illustrious draft analysts (Chad Ford and Jonathan Givony) have him going to the division rival Trailblazers just one pick prior to ours. If Faried does however manage to find his way past the Trailblazers, to put it simply: Nuggets fans should be ecstatic.
2. Jeremy Tyler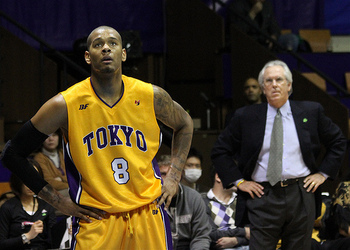 Estimated availability: 80 percent
Greatest strength: Athleticism, potential
Concerns: Attitude
Best case scenario: LaMarcus Aldridge
Tyler is undoubtedly a prospect that raises more questions than he does answers. Standing 6-11 with a 7-foot-5 wingspan and incredible athleticism to boot, Tyler is the prototypical franchise center every NBA team dreams of… physically at least. Conversely, what lies between his ears is more of an enigma. But recently, Tyler has shown a revived sense of dedication and professionalism to the game of basketball, which has resulted in many teams considering him in the mid to late-first round. The Nuggets have to be one of these teams, as the chance to land a center as talented as Tyler does not come along that often. Bottom line: I can't remember the last time somebody with the skill set and physical attributes this kid possesses let an attitude problem totally derail their career. At worse, Tyler is another freakishly talented athlete (a la J.R. Smith and Allen Iverson) that causes George Karl to lose more hair than he already has, while simultaneously helping us reach the 50-win plateau in the process.
3. Nikola Vucevic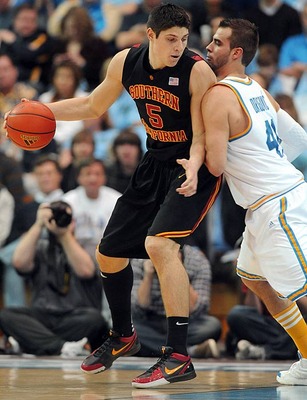 Estimated availability: 40 percent
Greatest strength: Size, skill level
Concerns: Athleticism
Best case scenario: Vlade Divac
Vucevic finds his way to No. 3 on Roundball's Big Board for strictly one reason: his rare combination of size and versatility. His potential is relatively grounded, his athleticism — mundane, but at a legitimate 7-feet with shoes on and a skill set not often paired with his frame, Vucevic is an enticing package. Although other diminutive prospects might offer more production down the road, I continuously find myself coming back to the old aphorism that size matters in the NBA. But what I like most about the idea of having Vucevic on the Nuggets, is the fact that he'd be an excellent contrast to our other bigs. While Nene, Birdman, Mozgov and Koufos thrive relatively close to the basket, Vucevic has the ability to stretch the floor, evident by his 35 percent shot-making ability from downtown last year at USC. Further evidence of his versatility includes his averages of 1.6 assists, 1.4 blocks and PAC 10-leading 10.3 rebounds per game.
4. Marshon Brooks
Estimated availability: 25 percent
Greatest strength: Scoring
Concerns: None
Best case scenario: Joe Johnson with shades of Manu Ginobili
With so much uncertainty surrounding J.R. Smith, and even the slight possibility of Afflalo not returning, shooting guard is an area of need for the Nuggets and Brooks is one of the best in the entire draft. But before you accuse Roundball of placing Brooks at No. 4  solely based on need, realize that (A) he's one of the fastest risers in this year's draft, (B) he might very well go down as the best shooting guard in this year's draft, (C) he's got an extremely impressive body of work and (D) he's drawn comparison to Kobe, Jamaal Crawford and Nick Young — all of which have averaged at least 17 points per game for a full season in their NBA careers. Of all the prospects who managed to land a spot on the Nuggets Big Board 2.0, Brooks likely has the best chance of being selected before the 22nd pick, but if he is still available, he'd be hard to pass up on.
5. Charles Jenkins
Estimated availability: 85 percent
Greatest strength: Shooting efficiency
Concerns: Inflated numbers due to level of competition
Best case scenario: Jamaal Crawford meets Rodney Stuckey
There's a really good chance that by the time the Nuggets select, everyone above our No. 5 ranked player will already be off the board, therefore, this player presents a very real possibility of being drafted by the Nuggets. Jenkins was detailed in Roundball's most recent Prospecting column in which he received the prestigious honor (*sarcasm*) of being ranked as the No. 1 point guard prospect next in line to replace the disgruntled Raymond Felton. As mentioned there, Jenkins' strength is his scoring, in which he manages to take advantage of by using a copious amount of different methods. From creating off the dribble, to spotting up outside the arc, to executing the mid-range game with precise accuracy — Jenkins can do it all, and would be a great fit next to Ty Lawson in the two-point guard lineup Karl is seemingly obsessed with.
6. Josh Selby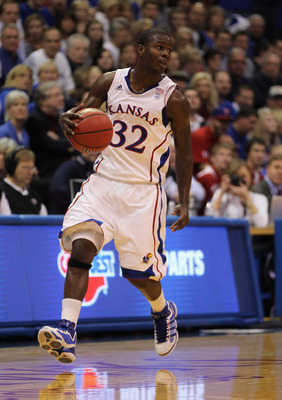 Estimated availability: 70 percent
Greatest strength: Scoring, athleticism
Concerns: Character
Best case scenario: Monta Ellis
If team needs were totally thrown out of the picture, Selby might very well be atop our big board. In terms of being an NBA athlete, this kid's got it all: scoring, athleticism, speed, ball handling, etc. There's really nothing Selby can't do on the floor. The only problem: We kind of have this guy named… um… I don't know if you've heard of him, but… Ty Lawson, who does everything Selby can but better (almost), and he's already established himself as an NBA franchise point guard, which isn't an easy thing to do. The dilemma with the Nuggets is whether or not they want to draft strictly based on the "BPA" (Best Player Available) strategy, or make team needs a priority as well. When you're drafting outside the lottery this is an extremely tough call to make, as –unlike in the lottery — it's much harder to distinguish between the guys that offer a tremendous amount of upside and the guys that would be solid additions to your team based on collegiate accomplishments. Nevertheless, Selby looks like one of the very few that has that type of exceptional upside.
7. Tobias Harris

Estimated availability: 40 percent
Greatest strength: Versatility, maturity
Concerns: Athleticism
Best case scenario: Lamar Odom
Of all the players outside Faried, I'd say Tobias Harris is the most likely player destined to be donning a powder blue Nuggets jersey this fall… err.. whenever the 2011-12 NBA season gets underway. It's been reported that the Nuggets are extremely interested in the utility man out of Tennessee, even going so far as to invite him back for an additional one-on-one workout after his initial visit. Though I've admittedly never been the biggest fan of Harris — if only for the simple fact that small forward is the last position we need to be concerning ourselves with (see: Danilo Gallinari, Wilson Chandler, Al Harrington) — I'm starting to warm up to the idea of drafting him after repeatedly hearing how impressed scouts are with his game. At only 18 years of age and with a vast amount of growth yet to be had — both physically and skill-wise — the potential of packaging Felton with Chandler, then grooming Harris behind Gallinari seems enticing as any strategy the Nuggets brass could concoct. Will this master plan soon come to fruition? All signs are pointing towards "yes," but in the end, only time will tell.
8. Iman Shumpert
Estimated availability: 85 percent
Greatest strength: Athleticism, defense
Concerns: Outside shot
Best case scenario: Shannon Brown meets Tony Allen
I can't, for the life of me, figure out why Shumpert isn't ranked higher in most mock drafts. Chad Ford doesn't even have him slated to go in the first round, and only after he had his notoriously impressive showing in Denver did Draft Express move him — although briefly — into the top 20 (since then, they've had him going to the Nuggets for quite some time). He's the best athlete in this draft bar none, he's one of the best defenders, his versatility is up there with guys like Harris and Leonard, and yet, Shumpert can't seem to catch a break even while he continues to impress in team workouts. Granted, his shooting and overall shot selection is a bit questionable, but you'd be hard pressed to find another player asked to carry the bulk of his team's offense who's shot selection isn't questionable. My whole deal: Elite athleticism, a penchant to play defense and natural basketball instincts are all things that can't be taught; shooting on the other hand, simply takes a lot of practice. Just ask Derrick Rose.
9. Reggie Jackson
Estimated availability: 85 percent
Greatest strength: Athleticism (as you can see from above)
Concerns: Knee issues
Best case scenario: Jrue Holiday
Truth be told, Jackson is as solid of a prospect as the Nuggets could possibly hope to get with the No. 22 pick in the Draft. He likely won't be a home run — rather a solid double — but at 22 could end up being a steal when it's all said and done. OK, enough with the innuendo. The point is, I like Jackson… a lot. From what I can see he has no fatal flaws, or even weaknesses for that matter, and his game should translate very well to the next level as he's able to do most everything on the floor, including shoot at an efficient rate from behind the arc. His athleticism is top-notch and when paired with his length (7-foot wingspan), creates an uncanny ability to finish and rebound, for his size, around the rim. It's been reported that the Celtics have grown very fond of Jackson, but he was considered a consensus selection by the Nuggets for quite some time before getting injured, so don't rule out the possibility of him playing in the Mile High City next year much to the dismay of Danny Ainge and the rest of the Celtics faithful.
10. Chandler Parsons
Estimated availability: 100 percent
Greatest strength: Versatility
Concerns: Scoring
Best case scenario: Mike Miller
I was torn on who to include for this final spot, as there are many candidates worthy of making the list. JuJuan Johnson, Tyler Honeycutt, Nolan Smith, Justin Harper and Jimmy Butler all received heavy consideration but at the end of the day Parsons was the most intriguing. This isn't to say that any of the other candidates considered won't go on to have better NBA careers than Parsons — in fact, there's a very good chance all of them could — it's just that, Parsons is probably the one guy I want to see succeed at the next level most (next to Jimmy Butler, who has a pretty amazing personal story). Come on, how awesome would it be to see a 6-10, floppy-haired, beach-boy looking small forward who has the handle of a point guard, come along and actually have a successful career in the NBA in route to posting a handful of triple-doubles along the way? OK, so maybe it wouldn't be as cool as I'm attempting to make it out to be, but nevertheless, Parsons does have some talent. In his final season at Florida, he won SEC Player of the Year by averaging 11.3 points, 7.8 rebounds and 3.8 assists per game, all while shooting .370 percent from behind the arc and .480 from the field. According to Draft Express, his adjusted stats per 40 minutes rank him top ten amongst NCAA small forwards in rebounding and first overall in assists. But the biggest reason I'm a fan of Parsons: He can play point guard, which means when George Karl decides he wants to run his security blanket two-point guard offense, we'd be able to trot a near 7-footer out there. On second though, this is probably wishful thinking.
The following two tabs change content below.
Kalen Deremo
Kalen was born in Durango, CO, in 1988 and graduated from Metropolitan State University of Denver in 2013 with a degree in journalism. He's now an itinerant hoping to travel as much as possible before eventually succumbing to the "real world." Aside from writing Kalen likes movies, music, spicy food and the great outdoors. Edward Abbey is his current idol.
Latest posts by Kalen Deremo (see all)