On Thursday, the Denver Nuggets had what most consider to be a fantastic night. Landing long-time fan-favorite prospect Kenneth Faried was one thing, but landing him in addition to Jordan Hamilton — one of the most highly rated prospects in the entire draft — was a whole different story.  
Though many Nuggets fans who followed this draft closely already know an abundance of information on both Faried and Hamilton, some still might not, and for those this piece may come in handy. This is simply a run-down of strengths, weaknesses, expectations, projections and all the other ingredients that go along with a general scouting report. It should be noted right off the bat that I have not watched extensive footage on any of the new Nuggets. All the knowledge I currently posses has been obtained from a few games here and there; scouting services like Draft Express, The Hoops Report and ESPN; and of course the occasional Youtube highlight reel. If you would like to make your own assessment of these prospects, I highly advise you to watch full game footage of multiple outings to gain a general idea of what that specific player brings to the table, or of course you can always do as I did and visit any of the sites mentioned above. If however you are too lazy to do this amount of work, I hope that my interpretation of these prospects can help you get further acquainted with them.
Jordan Hamilton
By the numbers (per game): 18.6 points, 7.7 rebounds, 2.1 assists, .09 steals, .6 blocks.
Strengths: shooting, offensive versatility, rebounding
Weaknesses: shot selection, attitude (?)
The run-down: Coming out of high school in 2009 both ESPN and Rivals.com had  Hamilton ranked as the No. 1 small forward prospect in a class that included John Wall, DeMarcus Cousins and Derrick Favors. After committing to Texas, Hamilton played a season of up-and-down basketball where he showed flashes of brilliance in addition to disappointing body language and questionable character traits. Then in 2011, during his sophomore campaign, Hamilton appeared to turn the corner both on the court and with his attitude. His points per game shot up from 10 to 19; his rebounds, four to eight; and his free-throw percentage, .578 to .779. Unlike his first year at Texas, Hamilton evolved into a team player this past season and simultaneously answered most of the questions people had concerning his character: It wasn't an issue. Finally Hamilton lived up to the hype he had coming out of high school, and after two years at Texas, decided to enter his name in the 2011 NBA Draft where the Nuggets were lucky enough to land him due to a three-way trade involving Dallas and Portland.
The game: Hamilton is an extremely gifted offensive talent. From spot-up shots behind the arc, to catch-and-shoot attempts coming off curls, to mixing it up down low — this kid can do it all. That said, Hamilton's elite specialty is unequivocally his ability to stretch the floor and knock down difficult shots. When given space, he's virtually a lock to sink a wet jumper, and more often than not, he'll find this beyond the arc where he converts at a high rate (.385 percent last season). His quick release allows him to get his shot off in extremely tight situations, thus making him an absolute killer from downtown. But when facing stingy perimeter defenses Hamilton has shown the ability to rack up points down low. In fact, the consensus among talent evaluators is that of all the small forwards in the country last season, Hamilton was one of the better low post threats there was. He's physical enough to bully smaller counterparts into submission, yet skilled enough to finish with finesse once he's withing a close proximity to the rim.
Defensively, Hamilton appears to be a mixed bag, but one that certainly excels from time to time. No, he's not Bruce Bowen, but Hamilton has shown on many different occasions that he's capable of performing near lock-down defense for extended stretches of the game. The real dilemma for the Nuggets will be figuring out a way to get Hamilton to play with intensity on the defensive side of the floor for 48 minutes, but that's still a problem 90 percent of the players in the NBA haven't been able to figure out, so I wouldn't sweat it too much. What's probably more of a concern with Hamilton —  especially coming to the Nuggets — is his shot selection. Although he's entirely capable of making off-balanced, highly contested, one-footed baby-hooks, Hamilton sometimes seems as if he feels this is an OK shot to take. He also has a tendency to rush the shot clock or shoot when other teammates are more open, but again, all these "weaknesses" have drastically diminished during his tenure at Texas, which is a great sign. Still, Hamilton will have some work to do in this area, and as Jonathan Givony of Draft Express put it:
The NBA coach whose team ends up picking him will likely need to accept that he's going to take some bad shots every night, some of which will go in… He still has a tendency to hunt shots, though, as there are certain moments of the game in which Texas' offense will get stuck and he'll feel the need to be a hero and win games all by himself.
The verdict: Even from the limited highlights and material I've seen, I can already say fairly comfortably, that Hamilton was an absolute steal at No. 26 in the first round. Why he tumbled down the draft board so far is still unknown, but according to Hamilton, it was largely due to his coach at Texas, Rick Barnes, saying some unfavorable things about him prior to the draft (i.e., he's "uncoachable"). This specific instance shows us that Hamilton still has some maturing to do between the ears, which is likely the real reason he plummeted on draft day, but given the progress he's made in just a few years at Texas, I think it's safe to say he was a gamble well worth taking as his offensive talent is undeniably promising. Plus, what would the dysfunctional Denver Nuggets be without  a knucklehead or two?
Kenneth Faried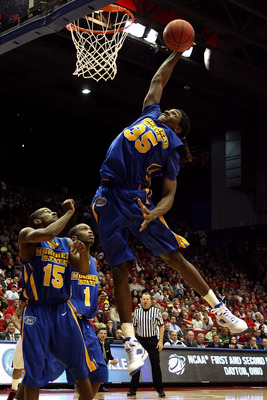 By the numbers (per game): 17.3 points, 14.5 rebounds, 1.1 assists, 1.9 steals, 2.3 blocks.
Strengths: rebounding (duh), defense, hustle, heart, determination, attitude, etc., etc., etc…
Weaknesses: shot-making ability, overall offense
The run-down: Unlike the aforementioned Hamilton, Faried was anything but a highly touted recruit coming out of high school. Garnering attention from only a few small Division 1 programs, Faried eventually signed with Morehead State University, where as his minutes gradually increased, so did his production. During his four-year collegiate career Faried saw his statistics per game grow from his freshman to senior season, as his points went from 11 to 17; his rebounds, eight to 15; his steals, 1.2 to 1.9; his blocks, .8 to 2.3; and his field goal percentage, .516 to .623. This drastic increase in production didn't go unnoticed, even though Faried played in a smaller conference, as numerous awards and honors were sent his way including the Ohio Valley Conference Player of the Year award (twice), Ohio Valley Conference Tournament MVP as well as a Second Team All-American selection (honorable mention twice). And although the awards were gratifying, breaking Tim Duncan's modern era rebounding record en route to being selected No. 22 overall in the first round of the 2011 NBA Draft by the Denver Nuggets is undoubtedly Faried's biggest accomplishment to date.
The game: As detailed in Roundball's first Big Board, Faried is the epitome of heart and soul on the basketball floor. Standing only 6-foot-8 with shoes on, Faried relies on his never-say-day attitude to rack up the eye-popping numbers that he does on a nightly basis. It doesn't matter if he's in the first exhibition game of the season or tw0 rounds deep into the NCAA Tournament, as long as he has an opponent, Faried is going to give you 150 percent every second of the game. This unparalleled energy is mostly what allows Faried to haul in the staggering amount of rebounds that he does, but don't get it twisted, this kid knows how to play the game, evident by his punctilious box-out form and ability to be in the exact place at the right time to make a big play. In addition to being an all-time great rebounder, Faried is also a hard-nosed defender who seems to take pride on this side of the floor.
The only question mark that leaves Faried's resume somewhat tainted in the scout's eyes, is his offensive game. Not only is Faried totally maladroit when it comes to creating his own shot, but even when he's wide open with both feet set he has trouble knocking down shots. That said, averaging over 17 points per game in any Division 1 conference is an indicator that you can score the rock — even if it's not in the most beautiful fashion. Faried likely won't ever average more than 15 points per game in the NBA, but that's perfectly fine as long as he rebounds and plays defense the way we know he's capable of doing.
The verdict: If you read my piece after Thursday's draft or if you've been following this blog for some time, then you already know how pleased I am with this pick. I think I speak for everyone in Nuggets Nation when I say that Faried was the exact remedy this team has needed for quite some time. It's really too bad Carmelo Anthony decided to do what he did this past year, because Masai has proven he's more than capable of assembling a heavyweight contender if given the time. Faried likely would have been that final piece to the puzzle, but regardless, he'll be well worth it either way. Could he be a bust? Yeah. But so could every one of the other 59 selections in this draft. In my opinion, Faried has given us every reason to believe this won't be the case, and when it's all said and done, I have a feeling this pick might go down as one of the best in Nuggets history.
Chukwudiebere Maduabum
(photo unavailable)
By the numbers (per game): n/a
Strengths: n/a
Weaknesses: n/a
The run-down: n/a
The game: n/a
The verdict: Umm…. we'll go with "incomplete" on this one.
Though the above may seem like an irreverent joke — it's not. There is literally nothing available on the Internet (can you believe it?!) about this guy. All anybody knows is that he was discovered last year by someone in the D-League, and not long after joined the Bakersfield Jam where he played a total of 20 minutes combined during a three-games stint. Hell, even Scott Schroeder, who's like the Ken Jennings of D-League basketball, has absolutely no information on this guy, however he did post a pretty funny and enthusiastic reaction to him being drafted. Also, Dime Magazine did a short piece on him where they point out that on his Facebook page he describes himself as, "thirty percent normal, seventy percent crazy." (I like this guy already.) But I'll leave you with perhaps my favorite Chukwudiebere Maduabum revelation that happens to come from his Wikipedia page, which is only one semi run-on sentence that looks like it was created a couple nights ago:
Chukwudiebere Maduabum (born March 19, 1991) is a basketball player from Nigeria drafted by the Los Angeles Lakers in the second round of the 2011 NBA Draft with the 56th pick but was traded to Denver Nuggets.
The following two tabs change content below.
Kalen Deremo
Kalen was born in Durango, CO, in 1988 and graduated from Metropolitan State University of Denver in 2013 with a degree in journalism. He's now an itinerant hoping to travel as much as possible before eventually succumbing to the "real world." Aside from writing Kalen likes movies, music, spicy food and the great outdoors. Edward Abbey is his current idol.
Latest posts by Kalen Deremo (see all)