It's been nearly a year since Roundball Mining Company unveiled its last Big Board. The man who held the No. 1 spot on that list ended up being the man who the Nuggets drafted with the 22nd pick in the 2011 NBA Draft. That worked out pretty well. Now after months of scouting and analyzing the NCAA's best prospects, I finally get the opportunity to do one of my favorite things in the world: speculate on the NBA Draft. This is Roundball Mining Company's first Big Board of the year.
Before we get started there are few very important things you should know.
First: I am not a professional scout. Hell, I'm not even an amateur scout. To me, the word "scout" implies someone working for a team. I don't do that. Everything you read from here on out is nothing but my first-hand observations of players I've watched throughout the 2011 NCAA Mens Basketball season, in addition to numerous scouting reports and articles I've read to corroborate my initial findings.
So why trust me?
Again, I'm just a fan who writes; however, I do watch more college hoops than the average Joe. Last year I got accepted to moonlight for The Hoops Report and while I didn't get to write nearly as much as I had hoped, holding the position forced me to compile scouting reports for many of the top prospects in the country. Unless otherwise noted, each of the players below are ones I've seen play in full, 40-minute games at least two to three times last season. While I understand this is an extremely small sample size compared to what NBA general managers see, it has still allowed me to gauge each of these players' strengths and weaknesses, as well as everything in between.
Second: The crop of players I've culled, and will continue to select in future articles for our Big Board series, are done in respect to prestigious NBA Draft analysts' "mock drafts." Illustrious writers for ESPN, DraftExpress, HoopsWorld and HoopsHype among others, compile scrupulous mock drafts based on talent, potential, team needs and most importantly, what they hear from those plugged into the NBA Draft circuit. These trusted mock drafts offer up an extremely accurate blueprint for which players may go where; therefore, guys like Harrison Barnes and Bradley Beal will not be appearing in this Big Board! This article is reserved strictly for players that have a solid chance of being available with the 20th pick in the Draft!
Finally: (And this sort of ties into the last point…) Those who appear in this Big Board are guys who almost certainly won't go much higher than the 20th pick in the Draft. There is still a lot of time before June 28. Rumors will slowly leak and we will gain a better understanding of which teams likes which guys, but for now, these are players most see as mid to late first-rounds picks. There will be separate Big Boards for different crops of players leading all the way up to Draft night. To start off, lets take a look at the most underrated, yet realistic options for the 20th pick, aka, my favorites thus far…
1. Andrew Nicholson // Senior – St. Bonaventure // 6-9 // Power Forward
Unlike last year when I knew Kenneth Faried would hold the No. 1 position on RMC's Big Board throughout the pre-Draft process, 2012 has required quite a lot of  "prospecting" in order to find a top dog for our list. Truth be told, any of the names below would be great selections at 20, however Nicholson stands out for several reasons.
When I first watched Nicholson at the beginning of this past season I was thoroughly impressed; after watching him lead St. Bonaventure to its first NCAA Tournament birth in over a decade, I was sold.
In the Atlantic 10 title game against Xavier, Nicholson put forth an incredible 26 points, 14 rebounds and eight blocks on .538 shooting from the field and a perfect 10-10 from the free throw line. It was one of the most dominating performances I can remember seeing at the college level.
For the season Nicholson averaged 18.5 points, 8.4 rebounds and two blocks per game while winning the Atlantic 10's Player of the Year and Defensive Player of the Year awards. He also had a 21-point, 23-rebound game against Duquesne; scored over 30 points four different times and shot .434 percent from beyond the arc despite being a 6-9 power forward. In other words, he had an absolute monster season, most of which went uncovered by the national media.
Though the numbers are appealing, it's Nicholson's skill set that intrigues me most.
Originally a low-post defender, Nicholson improved his perimeter shooting each year at St. Bonaventure to the point where he's now drawing comparisons to Ryan Anderson — the NBA's leading 3-point shooter in 2011-12. Though this is definitely a misleading, it goes to show just how impressed scouts are with Nicholson's range.
Nuggets fans shouldn't get it twisted. I'm here to tell you: Nicholson's post game is his real strength. Since his freshman year he's gained 50 pounds. He has a lengthy 7-4 wingspan, measured in with the biggest hands at the NBA Draft Combine and size 18 shoes. He's extremely nimble for a power forward and has some of the best footwork of any prospect over the last handful of years. He has a lethal drop step and an array of different hooks. All these elements combine to form a post presence already fit to compete in the NBA.
Knocks on Nicholson are that he's not super athletic, that he runs weird (picture the Grinch) and that he's not a great creator or passer. In my opinion, all of these criticisms are deceiving.
Is he Hakeem Olajuwon? Of course not, but who is? To say he's lacking in athleticism is just off base. Though he does hunch when he runs — which could perhaps create back problems down the line — it's not as if this is incurable or some sort of "red flag." Dude just runs weird. You would too if you had feet that big. As far as his passing goes, at St. Bonaventure he was asked to carry that team on a nightly basis. Occasionally Nicholson will get sticky hands but he's about the last thing from Carmelo Anthony in that sense. Nicholson has proven to be a team player and if surrounded with more talent, should have no problems sharing the rock.
Overall, my conclusion of Nicholson is this: He's a very crafty, very skilled big man who can score efficiently in the post, stretch the floor and play lock-down defense. How often do these types of guys come along and furthermore, fly under the radar? Word on the street is that Nicholson is tearing up workouts and if that's the case, he has a great chance of going higher than 20 — which he damn well should. If Nicholson played for North Carolina or Kentucky he'd be a top 15 pick. Thankfully for the Nuggets he played at St. Bonaventure and wore brown uniforms.
2. Royce White // Sophomore – Iowa State // 6-8 // Power Forward
We covered White extensively in our last post. By now Nuggets fans should be familiar with his game as well as his off-court drawbacks. Having led his team in all five major statistical categories last year, White is probably the most versatile forward in the Draft. Unfortunately he's also hindered by chronic anxiety, which includes fear of flying. While this continues to give franchises trepidation about drafting him in the first round, White has been vocal in stating his confidence to overcome his anxiety, specifically that of the aerial variety.
After watching the Draft Combine in Chicago a few things become clear, or should I say, more clear about White: (A) He's a bad shooter. And (B), he's a really interesting guy.
Watching White try and shoot was almost painful. I knew this was a weakness however it didn't stand out in games as much as it did at the Combine when he was forced to take one jump shot after another. Not only did White miss almost every attempt, but his form looked broken as well. At this point White just isn't confident in his shooting stroke which is plain to see.
Don't put too much stock into this one performance as the Combine is virtually useless these days; however, do keep in mind that unlike Nicholson, White has glaring weakness to his game that will need some work.
Reports are White is impressing everyone in the interview process. Fran Fraschilla stated how he and his team are extremely confident in his ability to overcome his fear of flying.
He also gave an interview with Andy Katz. It was short and to the point. Here is what I collected:
I really like White from a personal standpoint. Admittedly, a small reason why Nicholson is No. 1 on this list is because he's intelligent and has a personality. White is the same way. He carries himself well, is articulate and has received good grades in school. When asked by Katz if he was growing out his beard as an ode to James Harden, White said no, that it was actually an ode to John Lennon, however he appreciates the way Harden plays the game of basketball.
Judging prospects based on their taste in music is obviously ill-advised and and illogical. Though White was going to appear at this spot regardless, his appreciation for good music certainly didn't dock him any points. Good thing I'm not a scout.
3. Will Barton // Sophomore – Memphis // 6-5 // Shooting Guard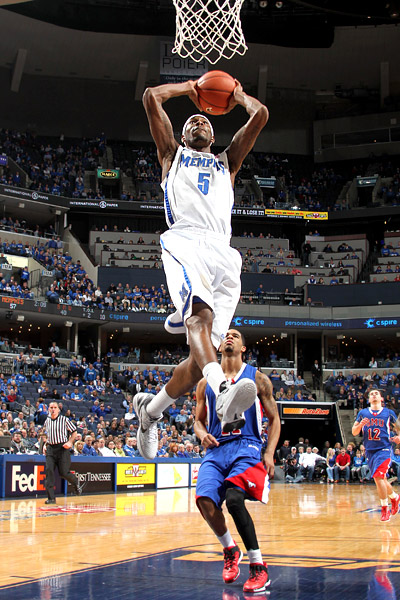 If you know why Will Barton is slated to go in the late first to early second-round of the Draft, please tell me… because I can't figure it out.
Like Nicholson, this is a guy I've had my eye on all year long. After the first month of the season when he was averaging roughly 21 points and nine rebounds per game against teams like Michigan, Louisville and Georgetown, I just figured everyone would eventually catch on.
Not exactly the case.
While Barton eventually cooled off he still finished the season averaging 18 points, eight rebounds three assists and nearly 1.5 steals per game while shooting .509 percent from the field and .35 percent from downtown. He was named Conference USA Player of the Year and led Memphis to the conference title as well as a second-round birth in the NCAA Tournament.
Recently Hoops World interviewed Barton in an articled titled, Will Barton, The Sleeper of 2012 Draft? In it Barton expresses his frustration with being overlooked and emphatically states how, across the board, his numbers were better than his counterparts who are slated to go in the Lottery.
In terms of his game, Barton is very well rounded and energetic. He has one of the best motors in the 2012 Draft class (rare for a shooting guard) and rebounds like a power forward. He's extremely athletic and utilizes his acrobatics to finish strongly around the rim. He's a solid shooter with a crafty mid-range game yet has the ability to stroke it from deep. Though shot selection can be a problem at times, Barton has improved significantly in this regard, showing maturity in the process.
Terrence Ross and John Jenkins have both worked out for the Nuggets. If it's a shooter the team is after, each of those players is a solid option; however, the best pure value at the shooting guard position likely comes in the form of Will Barton. He's this year's MarShon Brooks.
Other players to consider:
Tony Wroten Jr. — A 6-5 combo guard with incredible upside yet a bounty of worrisome problems.
Quincy Miller –A 6-9 freshman forward who was ranked as a top five high school prospect before blowing out his knee.
Draymond Green — A versatile 6-7 power forward who has the potential to be special if he continues to improve his body.
The following two tabs change content below.
Kalen Deremo
Kalen was born in Durango, CO, in 1988 and graduated from Metropolitan State University of Denver in 2013 with a degree in journalism. He's now an itinerant hoping to travel as much as possible before eventually succumbing to the "real world." Aside from writing Kalen likes movies, music, spicy food and the great outdoors. Edward Abbey is his current idol.
Latest posts by Kalen Deremo (see all)