In the prior editions of our Big Board series Roundball Mining Company examined two separate factions of candidates for the Nuggets to select with the 20th pick in the 2012 NBA Draft. One group included players most pundits project as being available by the time the Nuggets first-round selection arrives, while the other consisted of players that could slip but will most likely be off the board by the time the 20th pick rolls around. With the Draft now less than a week away we've decided to compile a list of the Top 10 players featured in all of our Big Board articles to make a single, comprehensive big board that ranks the best player available for the Nuggets to chose with its first-round selection.
(A brief FYI: All of the players mentioned below are guys I like and/or believe would be justifiable selections at 20. Though they are rated 1-10, there is an extremely small margin of preference I have between them. Two players featured in our Outliers Big Board — Terrence Ross and Kendall Marshall — have been left off this list entirely as I firmly believe they will be gone before the Nuggets select; however, if for some reason they are available I would fully support the front office selecting either of those players as they are tremendous talents. This list is subject to change.)
1. Perry Jones // Baylor // Power Forward
Ruminating about who would take the No. 1 spot on this list was a difficult task. I love the three players right below Jones but in the end (and after a short deliberation with some of my Twitter followers) it was determined that at 20, Jones' upside far outweighed his risks.
While he may never fulfill the lofty expectations bestowed upon him by the media, Jones is still one of the most talented and versatile players in this draft. In the right situation with limited pressure (i.e. Denver) he could flourish and finally become the player everyone knows he can be. The great thing about this pick is that no matter what, Denver will get a contributor. At worse, his passiveness gets the best of him and he becomes a solid bench guy who can match up with some of the premier power forwards in the league; at best, he's a potential franchise changer.
This is the perfect opportunity for the Nuggets to take a flyer on a guy who could end up being special.
2. Andrew Nicholson // St. Bonaventure // Power Forward
Up until the final minute of composing this Big Board I had Nicholson as the No. 1 rated prospect for the Nuggets. The gap between him and Jones is significantly small. In fact, you could swap either of these guys out for each other and I'd be perfectly content. Because Jones is just teeming with upside Nicholson takes a backseat, but don't get it twisted, the Monster Man from St. Bonaventure has all sorts of potential himself.
If you're still skeptical about RMC's signature prospect for this year, I'd urge you to take a look at this article by Kyle Nelson of Draft Express which ranks the top big men in the Draft based on their statistical production this past year. Of note, Nicholson leads the pack in points per 40 minutes pace adjusted and is second in PER behind only… Anthony Davis.
3. Royce White // Iowa State // Power Forward
Although still active, White's anxiety concerns have seriously disintegrated in recent weeks. He's been coping well with flying city to city and as a result has reportedly earned himself a promise from a team slated to pick in the first round. Rumors have it Danny Ainge and the Celtics are the suspects but don't count on White making it past the Nuggets as a guarantee.
It's a well-known fact that teams don't work out players arbitrarily. Prior to canceling last week, White was scheduled to showcase his repertoire in front of Masai Ujiri and the Nuggets brass in Denver. Clearly he's on their radar, however skipping his Nuggets workout could jeopardize his chances of being selected at 20.
White is still one of the most interesting players in the Draft and someone I could definitely see in a Nuggets uniform starting as early as this summer.
4. Jared Sullinger // Ohio State // Power Forward
The Nuggets are going to have an incredibly difficult decision to make if Sullinger happens to slide on Draft day. With guys like White and Nicholson seemingly scheduled to hang around for a while, the team will have to face the dilemma of choosing between several players with their fare share of strengths and weaknesses. The real question the Nuggets must answer in regards to Sullinger is how much stock they put into his recent injury report. If they deem his body a legitimate concern, he'll continue to fall; if they think the news has been overblown, it will be excruciatingly tough to pass on such a skilled offensive talent.
5. Terrence Jones // Kentucky // Power Forward
In all likelihood Jones will be gone by the time the Nuggets select. His question marks aren't quite as glaring as the ones Sullinger and Jones posses. Additionally, his talent is through the roof. However, considering the minute possibility he does fall to 20, the Nuggets would again face a perplexing predicament.
Will Jones have a better career than White or Nicholson? What's his true position? (He's really stuck between a three and four.) Does he have the potential to be special and not just a regular starter in the league? These are all questions the Nuggets will have to weigh on Draft night.
6. Quincy Miller // Baylor // Small Forward
Miller is one of the toughest guys in the Draft to gauge. He's always been highly thought of throughout his career but his lone year at Baylor was enigmatic, to say the least.
The problem Denver faces with Miller is determining how much stock they'll put into a limited sample size of confusing Baylor footage while melding that with tape from his high school days. They know Miller is still young, extremely talented and has an enormous amount of upside, but is he still the same player he was his junior year in high school? Remember, because of an ACL injury, Miller was sidelined his entire senior year. While he played OK at Baylor, the athleticism that had defined him up to that point was clearly missing.
Is he ever going to regain that explosiveness that left scouts salivating, or will his fragile frame disallow a proper recovery? The fact is: It's been nearly two full years since his injury and yet the doubts are still prevalent. Whether he'll ever be considerably better than Gallinari, Chandler or Hamilton seems questionable.
7. Will Barton // Memphis // Shooting Guard
At this point the prospects being to taper off. While I personally love Barton, even I know that taking him with the 20th pick might be a bit of a reach considering who will likely be on the board at that point in time. One thing is clear, however: Barton is still a very underrated prospect in this draft. If the Nuggets could somehow maneuver themselves into another late first-round pick, Barton would be a fantastic choice.
If for some reason Ujiri did in fact pick Barton at 20, it would be a surprisingly satisfactory selection from my standpoint as it would confirm that Ujiri — one of the best general managers in the NBA — saw exactly what I did in Barton all this time.
8. Moe Harkless // St. John's // Small Forward
If I had to chose a sleeper pick, this would be it. Judging by Ujiri's interest in Kenneth Faried, Tobias Harris and Iman Shumpert last year, Harkless seems to fit the bill for the type of players Ujiri seeks out: guys with tons of upside, versatility, who play defense and usually do one or two things really well.
Harkless is one of the youngest players in this Draft yet has one of the most NBA-ready bodies and simply looks like he belongs at the next level. His game is smooth and resourceful, but he's relentless and energetic at the same time.
Though the Nuggets have a plethora of wings under contract heading into next year, Ujiri knows the first round is all about potential and if there's one guy that has it, it's Harkless.
9. Tony Wroten Jr. // Washington // Point Guard
Another luxury pick, Wroten is perhaps the most dynamic conundrum the NBA Draft has seen in years. He can't shoot worth a lick, he's hard-headed, drives the lane like an out-of-control Lamborghini and makes more boneheaded decisions than he does intelligent ones, however there's no denying the near-infinite amount of potential he possesses as a point guard.
Like Perry Jones, this could be a pick that doesn't pay off until three years down the line, but when it does the Nuggets could be looking at a star player. Adding Wroten may create controversy and an uncertainty at the point guard position but if Ujiri was truly confident in Wroten it's not like the possibility of having two All-Star caliber point guards on his roster would cause him to lose sleep.
10. Draymond Green // Michigan // Power Forward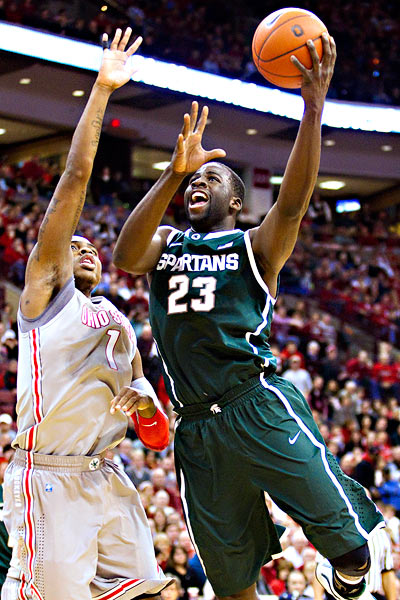 I probably like Green more than most. He played power forward in college but I think in the right situation he could end up being a two guard in the NBA.
The biggest obstacle for Green will be getting in prime physical condition. He's always been slightly overweight and therefore unable to keep up with some of the quicker guards at the collegiate level but he looked excellent at the Combine and appears to have turned over a new leaf with his fitness routine.
Like Barton, I don't see the Nuggets selecting Green at 20, but if they could work out a deal to land another late first-round pick, there won't be many players better than Green to select at that point.
Follow me on Twitter
The following two tabs change content below.
Kalen Deremo
Kalen was born in Durango, CO, in 1988 and graduated from Metropolitan State University of Denver in 2013 with a degree in journalism. He's now an itinerant hoping to travel as much as possible before eventually succumbing to the "real world." Aside from writing Kalen likes movies, music, spicy food and the great outdoors. Edward Abbey is his current idol.
Latest posts by Kalen Deremo (see all)