Sometimes, the grass really is greener.
When JaVale McGee was traded to the Denver Nuggets mid-season, the opportunity to escape from the highly dysfunctional atmosphere of the Washington Wizards organization and make a new start must truly have been a breath of fresh air.
One hardly need look further than former Wizards beat writer Jay Glassie's scathing takedown of Ted Leonsis and Ernie Grunfeld to understand just how toxic the organizational environment was in Washington. Glassie, who actually quit covering the Wizards because he had gotten so fed up, goes into great detail explaining what he call the "incredible losing culture" of that organization. Many NBA fans are familiar with the headline-making incidents from that time period, most infamously when Gilbert Arenas and Javaris Crittenton reportedly pulled guns on each other in the locker room in December 2009, but behavioral and PR issues weren't the only problems going on there. Those seeped deeply into basketball territory as well.
And for a young, raw, immature player in need of structure, discipline and veteran leadership, this clearly was infertile soil to be rooted in. McGee at one point asked Grunfeld "for a big man coach, and Grunfeld said he could have one if he paid for it himself". It's stunning that Washington would spurn cultivating one their most prized young assets, turning their backs on the opportunity to develop his game and facilitate his ambition to improve.
In vivid contrast, the Nuggets have sent McGee (who will soon be joined by Kenneth Faried) to join Amare Stoudemire in a personal training session with Hall of Fame center Hakeem Olajuwon. [You can see photos of JaVale and Amare working out with Hakeem on Facebook here]. For McGee, landing in an organization that puts a premium on player development and personalized training is an exciting chance to improve his game and turn around his reputation as the NBA's main source of comic relief.
But what, in his short time with the Nuggets so far, has he made of this opportunity? Has the change of scenery really paid off in terms of him playing better basketball? And can all of this set him on a better track for a brighter future?
In analyzing the changes in McGee's post-trade performance, it's probably important to resist the urge to put too much stock in the statistics. He only played 20 regular season and 7 playoff games with the Nuggets, joining the team amidst the condensed, lockout-shortened season, leaving few opportunities to practice with his new teammates. 20 games is a small sample size, so the numbers need to be taken with a grain of salt. But there are some differences between his Wizards and Nuggets stats which seem big enough at least to suggest that they could be meaningful as signs of things to come in McGee's development.
And before even getting into the numbers, we already have a good deal of anecdotal evidence that JaVale has been improving in Denver. For one thing, he hasn't really contributed any more eye rolling footage to his lengthy blooper reel collection. Although he still looked rather quirky on the court at times (which may partly just be a function of his lanky appearance), he seems to have settled into a less frenetic mode of play.
In his first game with the Nuggets, played at home against the Detroit Pistons on March 21st, McGee played the hero, putting back a game-winning tip-in off a missed Arron Afflalo free throw with 5 seconds remaining. [You can watch the highlight reel I put together of JaVale's first Nuggets game here]. This was an exciting introduction, and seemed to be a harbinger that he could indeed benefit from a new start in Denver.
Then there was his playoff debut against the Los Angeles Lakers. While he wasn't very consistent over the full seven game series, he had two outstanding performances against the formidable Andrew Bynum/Pau Gasol frontcourt in games three (16 points, 15 rebounds, 3 blocks) and five (21 points, 14 rebounds, 2 blocks), which garnered him recognition and praise on the national stage.
So the smell test reveals some indications that JaVale is getting better, but do the statistics back it up? The answer seems to point mostly to yes, but there is a little on the negative side of the equation as well. McGee's rebounding and shot blocking both declined after being traded. His rebound rates and block rate were slightly down across the board, and he pulled down 1.5 fewer boards and swatted 0.5 fewer blocks per 36 minutes (stats from Basketballl-Reference.com):

There may not be any clear answer for why this part of his game slipped. An easy assumption would be that playing alongside Kenneth Faried might depress his rebounding numbers, but from the 5-man floor units at 82games.com, it appears that he actually spent considerably more time playing alongside Al Harrington than the Manimal, so that wouldn't make much sense. (Unlike former Nugget Marcus Camby, Al has ever been accused of grabbing rebounds from his own teammates – or pretty much anyone else). Another possibility is that playing in a more controlled manner impacted his aggressiveness.
But overall, the differences are small enough that it's hard at this point to chalk them up to much more than the kind of deviation we might expect from sampling error. A few other changes in McGee's game – both good and bad – might also be considered too minimal to read too much into. Both his assist and turnover rates dropped slightly, which is pretty much a wash, and in any event can most likely be attributed to him handling the ball less in general. JaVale's PER slightly increased, from 19.6 to 20.5, and even though his minutes per game dropped quite a bit, from 27.4 to 20.6, his usage rate stayed nearly the same. All of which pretty much adds up to move along, nothing to see here.
Things get much more interesting, however, when we break down McGee's shooting. If you zoom in on the difference in McGee's shot attempts and effective field goal percentage by shot location before and after the trade, it looks on the surface to be a formula for a decrease in his overall shooting efficiency. Jump shots were the only area in which his eFG% increased, but he took less of them. In the other locations (all near the basket), his attempts either increased or held steady, but his eFG% dropped: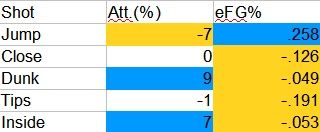 Yet despite increasing the percentage on a shot he took less, and decreasing the percentages on the shots he took more, his overall TS% and eFG% actully rose by roughly 5% and 7.8% respectively. Somehow McGee managed to take more shots he got worse at, and fewer shots he got better at – and on top of that, drop his already woeful .500 free throw percentage to a horrific .373 – and still come out of the tunnel shooting more efficiently:

Of course, there's a catch here, which is that those jump shots were so much less efficient to begin with than his inside shots, that even as his jump shot percentages increased and inside shot percentages decreased, a wide gap remained (stats from MySynergySports.com):

In the shot location numbers we looked at earlier, McGee's jumpers decreased by 7% and his combined inside shots increased by 7%. The "cut" and "post-up" categories in the chart above seem to roughly correspond to those differences, and from watching JaVale play I think it's safe to infer that most of his jumpers are taken off post-ups. So the "Differences" columns here confirm a similar picture.
But the red meat is in the points per possession. In Washington, a whopping 32.2% of McGee's shots were post-ups, and yet he was only making them at a clip of 0.71 PPP. His most efficient shot, at 1.35 PPP, was the cut, but he took it only 18.9% of the time. Obviously, in the ideal situation, a player will increase his share of good shots and decrease the bad, but the opposite of this was happening with the Wizards.
After joining the Nuggets, a much better balance was achieved, as cuts replaced post-ups as the shot JaVale took most often (27.7%) and post-ups were reduced to a 25.8% share. And although points per possession dropped from 1.35 to 1.24 on his cuts, that's still highly efficient, and the fact that he was utilizing it much more, combined with the improvement in his post-ups from 0.71 to 0.91 PPP, made all the difference.
Everything about this situation screams that a world of credit must be given to the Denver Nuggets scouting and coaching staff. They clearly knew the exact prescription necessary to maximize McGee's efficiency on the offensive end. They knew if they got him, they could make him better. His transition to Denver was not only a healthy change of environment on the organizational level, it was like a transfer from Greendale Community College to Harvard University in terms of the quality of education and coaching he's receiving.
Given that Masai Ujiri and the Nuggets raised the bar on what to expect from McGee by signing him to a 4-year, $44 million contract, the fact that they seem to have started him on a much better course moving forward is welcome news.
I expect that as he progresses through his first training camp and preseason with the Nuggets, becoming more familiar with his teammates and the system, that much of the slippage in rebounding, blocks and some of his shooting percentages will return to the trajectory they were on over the course of his first 3 ½ seasons in the NBA. Working with Hakeem this summer, and having Andre Miller back around to throw him more of those easy lobs won't hurt, either.
If McGee plays about 27-28 minutes per game next season, I'd figure that 14-15 points, with 8-9 rebounds and 2-2.5 blocks per game, at a PER of around 22, is realistically within reach as his game develops, he becomes more fully integrated into the team, and the Nuggets coaching staff continues to maximize his efficiency.
[The statistics in this post are from Basketballl-Reference.com, 82games.com, and MySynergySports.com.]
The following two tabs change content below.
Joel is a long time Denver Nuggets (and Broncos) fan from Colorado who's been living in Japan since the mid-90s, and blogging about the Nuggets since 2008. You can contact and follow him on Twitter: @denbutsu.
Latest posts by Joel Rush (see all)