Leadership is getting players to believe in you. If you tell a teammate you're ready to play as tough as you're able to, you'd better go out there and do it… Leadership is diving for a loose ball, getting the crowd involved, getting other players involved. It's being able to take it as well as dish it out. That's the only way you're going to get respect from the players.

–Larry Bird
So many games come down to who's going to make plays. Who's the guy who's going to take that responsibility. So the leaders of this team are going to be the ones who take responsibility in winning. It's not the responsibility of putting numbers on the board, it's the responsibility of winning.

–George Karl
After the Denver Nuggets traded away Arron Afflalo and Al Harrington to land Andre Iguodala, the conventional wisdom dictated that while this move would bolster Denver's perimeter defense, its 3-point shooting, and by extension its offense as a whole, would take a hit (an issue which Charlie deftly analyzes in his most recent post). Most of the buzz centered around whether, on the balance, this was an upgrade in basketball terms that would propel the Nuggets to the next level.
Less examined, however, is the fact that in trading Afflalo Denver lost its team captain, and in trading Harrington lost the player who by all appearances was the team's true leader in the locker room. On the surface this might be considered an easily dismissible issue. Iguodala, after all, was not only team captain of the Philadelphia 76ers, most recently leading them to the Eastern Conference semifinals, but also boasting additional leadership credentials as an All-Star and Olympian. Leaders out, leader in, plug-and-play and they're ready to roll. Simple enough.
Except that it's not.
Ship without a captain
NBA fans are not often privy to the behind-the-scenes goings on of their favorite teams. Sure, there are interviews of players and coaches. Media reports trickle out regarding locker room friction, human interest stories and player-coach disputes. But the vast majority of the information available to the public is secondhand. Nuggets fans were fortunate last season to get a fly-on-the-wall view of the team through one of its most interesting and tumultuous years, as NBA TV's Denver Nuggets: The Association documented extensive coverage of the team's inner workings.
As the season progressed and injuries began plaguing the Nuggets soon after the turn of the new year, most notably with Danilo Gallinari going down in early February, the question of leadership loomed large and became an ongoing predicament for George Karl and his coaching staff. Although Afflalo was captain, and Lawson was ostensibly in charge of the offense, it was quite clear to anyone watching the Nuggets regularly that veterans Andre Miller and Harrington were shouldering the bulk of the team's leadership.
Events in The Association confirmed this impression, as Karl spoke at length about leadership in interviews, and could be seen explicitly pleading with Afflalo and Lawson to step up and take the helm:
Ty needs to be in his A-game. He needs to be our stud, He needs to be the responsible dude with the ball… I want him to be involved, intense in almost every possession of every game. I feel that sometimes the let down that my team is giving me is a little bit because he's not assertive and aggressive enough all the time.

–George Karl
Karl:

I think you know I'm disappointed.

Afflalo:

In me or in the team?

Karl:

Both… I need a leader. I need a leader with the right stuff. I'm still searching.
Who will take the helm?
Leadership roles had essentially fallen into the laps of Harrington and Miller by virtue of the fact that they were experienced vets and simply because of the types of players and people they are. Harrington was the outspoken, vocal leader in huddles and the locker room, and also took it upon himself to step up his game when Afflalo was struggling early in the season and Gallo was sidelined. (Many Nuggets fans had balked at his contract when he was signed as a free agent, but he would go on to perform at a level worthy of his salary). Miller led quietly, less by words than by his controlled, stabilizing presence on the court.
But what Denver really needed – and still does – was for one or more of its young players, part of its long term future core, to claim the mantle of leadership and, in Karl's words, "take responsibility in winning." The coaching staff was clearly frustrated, but also recognized it was on them to cultivate the qualities they were looking for. As Karl said, "As a coaching staff, we've got to know that this is an area that we've got to develop."
The message did get through to Lawson and Afflalo, at least in terms of their basketball performance. Both finished the season strong, as reflected by their pre/post All-Star break splits: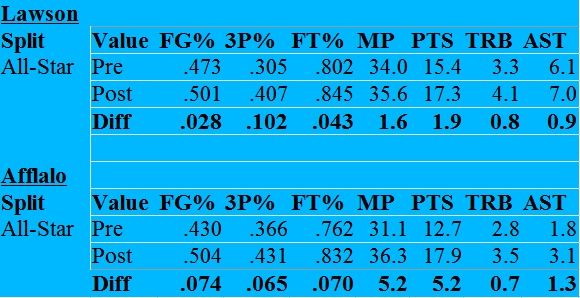 Both players surged in the second half of the season, scoring more points more efficiently and basically producing at a higher level across the board. Still, leadership issues seemed to persist despite the upswing to close out the regular season. Facing the Los Angeles Lakers in the first round of the playoffs, the Nuggets struggled through most of their first two games, losing both. Karl was still searching for his "leader with the right stuff," as evidence by his conversation with Lawson prior to game three, their first back home at the Pepsi Center:
Karl:

I think you understand how important you are to us.

Lawson:

What, tomorrow?

Karl [laughing]:

Every game. That's the one I'm not getting. You haven't signed that contract yet.

Lawson:

What contract?

Karl:

How important you are to us.
Lawson must lead them
Progress had been made over the course of the regular season, and Lawson's growth through that one playoff series seemed to happen so quickly as to be visible in real time. (More on this at a later date). But with a first round exit delaying the continuation of that process until the start of next season, the question of whether Karl and the coaching staff can find true leadership from within their young core seems to linger. (One might wonder, too, whether their previously displayed disappointment in Afflalo's leadership may have factored into the organization's willingness to let him go for Iguodala).
The recent history of Nuggets team captaincy has been rather odd and disjointed, bouncing around between having individual captains and two or three co-captains from season to season:
2006-07 Carmelo Anthony, Marcus Camby
2007-08 Carmelo Anthony, Marcus Camby, Allen Iverson
2008-09 Carmelo Anthony
2009-10 Carmelo Anthony, Chauncey Billups, Kenyon Martin
2010-11 Kenyon Martin
2011-12 Arron Afflalo
Reviewing this pattern – if indeed any pattern can even be discerned here – it almost seems as if Karl was so reluctant to entrust Melo with the responsibility of genuinely leading his team that he felt more comfortable stacking the deck. If this was the case, perhaps he was justified in doubting his star. Melo has not traditionally been known, after all, to exhibit many of the qualities which most would normally consider essential for great leadership, such as motivating and inspiring his teammates, being one of the hardest workers in practice and training, taking responsibility for the team's failures, following the coach's game plan and playing hard consistently on both ends of the court.
Granted, whether the decision to line up co-captains alongside Melo helped to strengthen the team's leadership core or instead gave cover for Melo to shirk responsibility – or any combination of these and many other effects – is purely speculative, and nothing conclusive could really be determined from such a thought experiment.
What does seem to be more readily apparent, however, is that at the times when Ty Lawson fully realizes that the responsibility is on him to carry his team, he tends to rise to the occasion. In those moments when the coaching staff was able to successfully communicate to him the urgency in which they needed him to step up and take control of the offense, he delivered. Perhaps not every single time, not every single game, but as a general rule Lawson has shown a propensity to respond to the challenge of leading the team when called upon to do so, as he did when the Nuggets were struggling midseason, as he did when they were down 0-2 to the Lakers.
It is not, perhaps, an identity that comes easily to him:
You know Ty is one of the most laid back guys you'll ever meet. And leaders can't be that way. He's a leader in training.

–Al Harrington
It is time for Ty Lawson to graduate from Padawan to Jedi, to complete his training and take full command, to completely own is role as the present and future leader of the Denver Nuggets.
He will not in actuality be the team's only leader, of course. Like last season, veterans like Miller and Iguodala will lead simply because it's in their experience, nature and work ethic to do so. Some of the other young players, most especially Gallinari, but likely Corey Brewer and Wilson Chandler as well, will certainly make their contributions.
But at the end of the day, as goes Lawson, so do the Nuggets. He is the engine that drives the offensive machinery. As the only direct holdover from the Carmelo Anthony era, Lawson is also the closest thing to foundational stability on a roster which has almost completely turned over in the space of just two seasons. Despite the near embarrassment of riches Denver has in its depth and talent, or perhaps because of it, it is paramount to the team's success that Lawson wholeheartedly sign on to Karl's symbolic contract of how important he is to the team.
And to that end, Ty Lawson should be named sole captain of the 2012-13 Denver Nuggets. It would be all too easy, practically automatic even, to select Iguodala, or Iguodala and Lawson, or Iguodala, Gallo and Lawson, or some combination of the above including Andre Miller. But the question of whether the Nuggets as a team break through to the next tier this season may hinge more than any other single factor on whether Lawson is able to do so individually, especially in the area of leadership. Naming Lawson and Lawson alone team captain would send the right message, one which hopefully would be received and taken to heart.
It can be difficult to strike the right balance between challenging a player to deliver at a higher level and putting too much pressure on him. But if Lawson is the player the Nuggets organization and (most) fans believe he can be, then it's time for him to show that he's ready to take that next step, accept the responsibility of winning, and lead his team not only to a deep playoff run this season, but an even brighter future beyond.
The following two tabs change content below.
Joel is a long time Denver Nuggets (and Broncos) fan from Colorado who's been living in Japan since the mid-90s, and blogging about the Nuggets since 2008. You can contact and follow him on Twitter: @denbutsu.
Latest posts by Joel Rush (see all)