October has arrived, and with it the end of the NBA offseason. Today is media day in the NBA, and the Denver Nuggets will open the doors of the Pepsi Center to the press prior to the beginning of training camp tomorrow. And we are now less than a week away from Denver's first preseason game versus the Los Angeles Clippers at the Mandalay Bay Events Center in Las Vegas on Oct. 6. (See the complete preseason schedule at Nuggets.com here).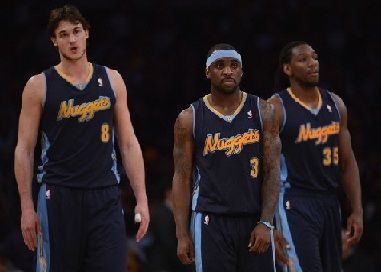 Of course, Roundball Mining Company will be keeping you updated with the latest developments out of training camp and the preseason, so stay tuned.
One thing to watch for today is an announcement which is expected to be made at Nuggets.com at 10 a.m., according to the final installment of their comic "Adventures in Nuggets Nation." Based on the clues given there, along with the recent surfacing of an NBA 2K13 screenshot of what could possibly be a new Nuggets alternate jersey, there is speculation that the announcement may pertain to Denver's jerseys and/or logos. Have we seen the last of the dark blues pictured above?
On the whole, Nuggets fans have probably not been this excited for an upcoming season in quite some time. The recent addition of Andre Iguodala, the continued development of Kenneth Faried and JaVale McGee, the opportunity for Jordan Hamilton to get his first shot at a regular rotation role, the challenge beset upon Ty Lawson and Danilo Gallinari to take their games to the next level, the chance for this entire squad to have their first full training camp together and enter the regular season properly prepared to grow into a team which might start to crack the ranks of the NBA elite — there is so much to be optimistic about, so much promise, and without a doubt an incredibly entertaining season of basketball to look forward to.
So please share your thoughts in the comments about what you're most excited for, which players you're most looking forward to watching, what you might be worried about, or anything else regarding the upcoming season. And please check back at RMC regularly for continued preseason coverage as well as the continuation of our #NuggetsRank series and more.
The following two tabs change content below.
Joel is a long time Denver Nuggets (and Broncos) fan from Colorado who's been living in Japan since the mid-90s, and blogging about the Nuggets since 2008. You can contact and follow him on Twitter: @denbutsu.
Latest posts by Joel Rush (see all)