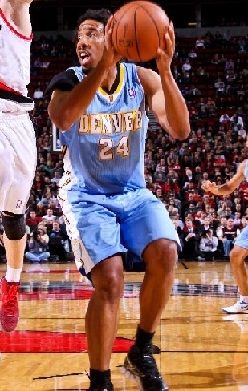 Landing at the No. 6 spot in our #NuggetsRank series is point guard Andre Miller, consummate professional, tireless workhorse, and by many accounts George Karl's favorite player on the team. Last season Miller, along with Al Harrington, assumed a role of veteran leadership to help guide Denver's young roster to a .576 record and sixth seed in the Western Conference. Playing all 66 games in the lockout-shortened season, he continued to lead the league in fewest missed games among players with 10+ seasons with an amazingly low six DNPs in 13 years in the NBA.
As everybody not living under a rock knows by now, Karl has fully exploited having the luxury of two starting caliber point guards on his squad, frequently deploying both at once in small ball lineups aimed at maximizing offensive efficiency by having a multitude of playmakers on the floor. In addition to Karl, Harrington and Miller received a hefty amount of criticism from fans dubious of this approach, as they played big minutes in closing stretches of games, sometimes to a net positive winning result, but often with the negative side effect of struggles on the defensive end.
There is some evidence lending credibility to the critique that Miller was overplayed. Last season, the Nuggets were the definition of average in games in which Miller played 30 minutes or more, going 11-11 (.500), while in contrast performing at a much higher level in games where he played fewer than 30 minutes, going 27-17 (.614). (Subtracting the games that Lawson missed, these records change to 9-9 and 27-16, respectively – not a significant difference, percentage-wise).
It is also true that Dre's performance is slipping at this point in his career. His PER has steadily declined each year since the 2008-09 season, taking its biggest drop from 17.8 to 14.8 last season with Denver. Granted, the fact that he played five fewer minutes per game than the previous season and came off the bench accelerated the slippage, but the trajectory is clear: Miller's game is on the wane.
Despite all this, at least for now Andre Miller rightly deserves his rank as the best Nuggets player outside the five who debuted the skyline alternates. Lawson may be the high-horsepower engine that drives Denver's offense, but Miller has been a steady hand to right the course when the ship has gone astray.
A fair rebuttal to the critique above is that it's really not Miller's fault if Karl overplays him. He doesn't dictate the rotations, he just does his job when called upon. But beyond that, there were a good number of games last season when the team as a whole was just not playing very well and he assumed the initiative to take control and start making some plays to get the Nuggets back into the game. On a roster of so many developing, inexperienced players, his knowledge, knack and feel for the game is a valuable asset.
When it comes to creating his own offense, Miller may be a mediocre shooter, but he is arguably the best post player Denver has, and one of the best post-up guards in the league. His veteran craftiness probably exceeds his actual skill set, but he knows how to execute down low, and put himself in a great position to draw fouls and get to the free throw line, or dish off to cutters or perimeter shooters.
And of course passing is where he excels the most. One of the league's better distributors, his 36.5 assist rate was Denver's highest, and despite Lawson averaging over seven minutes more per game, Miller slightly exceeded him in assists. More than any other Nugget, he has demonstrated the ability to make the players around him better. (JaVale McGee's improvement after being traded to the Nuggets is at least in part a testament to this).
Dre's defense remains a liability, especially in the two PG lineups. Given the declining trajectory he's on, and the addition of his former Philadelphia 76ers teammate Andre Iguodala – a great passer in his own right, and by far the superior defender – it will be interesting to see whether George Karl continues this season to give him big minutes off the bench. Especially in fourth quarter situations, Karl will have to come to a reckoning between two philosophies: 1) His belief that the best way to win in the clutch is making stops and letting defense create the offense; and 2) His desire to field his veteran playmaker, who he trusts to make the right basketball decisions. Most likely, he won't be able to have his cake and eat it, too.
But for now, this is a favorable "problem" for a coach to have, and the Nuggets are fortunate to have a player of Miller's quality at a backup position.
The following two tabs change content below.
Joel is a long time Denver Nuggets (and Broncos) fan from Colorado who's been living in Japan since the mid-90s, and blogging about the Nuggets since 2008. You can contact and follow him on Twitter: @denbutsu.
Latest posts by Joel Rush (see all)