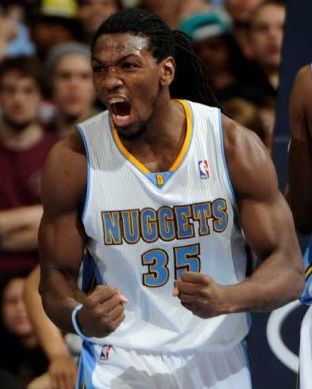 After just a single shortened season in the NBA, Kenneth Faried surges to the No. 4 spot in Roundball Mining Company's #NuggetsRank series. The near-unanimous verdict around the league is that the Manimal, selected by the Nuggets with their No. 22 pick, was the steal of the 2011 NBA draft. This perception was further validated by the fact that he received the third most Rookie of the Year votes despite his comparatively low draft position.
On February 11, Nene injured his calf in Denver's game against the Indiana Pacers, and went on to miss nearly a month of action. Prior to that night, the Nuggets had played 27 games, but Faried had only seen the court in seven of them, averaging 13 minutes. Opportunity knocked for him when Nene went down, and he emphatically burst through the door and started making an immediate impact. Faried would finish the season with the team's highest PER (21.9), offensive rating (123), true shooting percentage (.618) and total rebound rate (19.8). He averaged 10.2 points, 7.7 rebounds and a block per game (translating to 16.4/12.2/1.6 per 36 minutes) and had 12 double-doubles.
Beyond filling up the stat sheet, Kenneth showed that he had the ability to change games with his explosive energy. It's difficult to avoid slipping into hyperbole and cliché on this front ("he always plays above the rim"/"his energy is contagious"/etc.), but anyone who watched the Nuggets last season understands that these descriptions flow somewhat naturally from the truly intense level of activity he brings to almost every game.
But his big splash has already been made, and Denver will require more from him this season. He joined JaVale McGee in Hakeem Olajuwon's training sessions in August, but it remains to be seen whether he really has the ability to develop a more diverse offensive skill set. His efficiency last season was largely a result of taking the large majority of his shots at the rim when cutting, putting back offensive rebounds, or scoring in transition. In preseason games he seemed to be making a concerted effort to put up some mid-range jumpers, and generally focus on his offensive game. But this seemed to come at the expense of his aggressive crashing of the boards and energetic hustle play, and if this continues into the regular season it could arguably be counterproductive if it takes the edge off his greatest strengths.
Which brings us to his greatest weakness: defense. Faried is strong, and he'll probably continue getting stronger working with Steve Hess. But it's not likely that he'll be getting any taller than his current 6'8", and so he faces a somewhat daunting future of being on the tougher end of mismatches when guarding the league's bigger power forwards who have the ability to shoot over him. He will need to work on doing a better job of not allowing his assignments to get to their spots, and in my opinion George Karl should consider switching him and the taller Danilo Gallinari in cases where it could create more favorable matchups. If the Nuggets are able to improve their team defense as a whole with a refocused effort and some help from the leadership of Andre Iguodala, it should help Faried to stay on a positive learning curve defensively in his sophomore season, but for now he's till got a ways to go.
From the moment he scored his first basket in the Pepsi Center (the dramatic alley oop off Rudy Fernandez's no-look over the head backwards pass), the Manimal became an instant fan favorite and a new face of the Nuggets franchise. He arrived NBA ready, and it will be hard to outdo his superlative rookie season. But the key should be fairly simple. If he just keeps crashing those boards and playing with boundless energy, and keeps improving his defensive fundamentals to earn Karl's trust in keeping him on the court for bigger minutes, he should continue to have an increasingly important and valuable role on the Nuggets, and attain recognition as one of the league's top rebounders.
The following two tabs change content below.
Joel is a long time Denver Nuggets (and Broncos) fan from Colorado who's been living in Japan since the mid-90s, and blogging about the Nuggets since 2008. You can contact and follow him on Twitter: @denbutsu.
Latest posts by Joel Rush (see all)