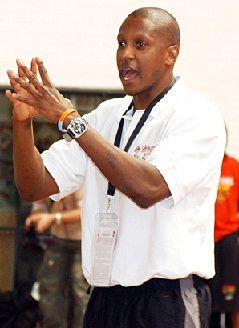 Masai Ujiri is about to get some high profile global media coverage, in what should be a very interesting in-depth profile of the Nuggets exec, his Nigerian roots, his NBA career and presumably his role as director of the Basketball Without Borders Africa camp.
From CNN International's page for its program African Voices:
Up next: Masai Ujiri

African Voices highlights Africa's most engaging personalities, exploring the lives and passions of people who rarely open themselves up to the camera. Next time on the show we meet the NBA's first African-born general manager Masai Ujiri.

Showtimes: (all times GMT)
Friday : 0730;
Saturday : 1430;
Sunday : 0800; 1730
Monday : 0930, 1630;
Tuesday : 0430
The availability of CNN International's programming in the U.S. may depend on specific cable or satellite providers, but it appears that the African Voices site itself hosts complete or nearly complete video clips of every episode. The Ujiri episode has not been posted yet, however, so you may want to check your local cable listings to see if you can get a jump on it.
The following two tabs change content below.
Joel is a long time Denver Nuggets (and Broncos) fan from Colorado who's been living in Japan since the mid-90s, and blogging about the Nuggets since 2008. You can contact and follow him on Twitter: @denbutsu.
Latest posts by Joel Rush (see all)