Ten days ago, Danilo Gallinari's 21 point outing versus Golden State, including some big plays down the stretch, was the difference maker in the Nuggets' victory. At that time it was his best game of the season. And on its heels we explored the possibility that it might mark the beginning of a turnaround to what had up to that point been a fairly dreadful season for the Rooster.
With last night's win at Memphis, Denver now has played ten games in the 2012-13 season. This is a small sample size to be sure, but nonetheless it may provide at least enough information to sketch a rough outline of Gallo's current trajectory.
Yesterday's big news was Danilo's clutch 3-pointer to effectively seal the win against the league-leading Grizzlies on their home court. A favorite NBA analyst question regarding the Nuggets has been, "Who will be the go-to guy when games are on the line?" Gallinari is obviously one of Denver's prime candidates, and it was great to see him deliver.
He also was more effective than he had been in far too long at getting to the free throw line by attacking the rim. Overall, it was a gritty, hard fought game (if not very pretty at times), and Gallinari played well and played tough on both ends of the floor, raising the bar on his best game of the season.
Based on the eyeball test, Danilo is starting to put his struggles to rest. Whether it's because he's more fully recovering from his ankle injury, recapturing his mental focus, just shaking off a plain old shooting slump, or some combination of these and other factors, his recent play has clearly been improving.
The numbers bear out his improved play of late. Here are Gallo's averages in the first five games, the five games after that, and the differences between the two (stats from Basketball-Reference.com):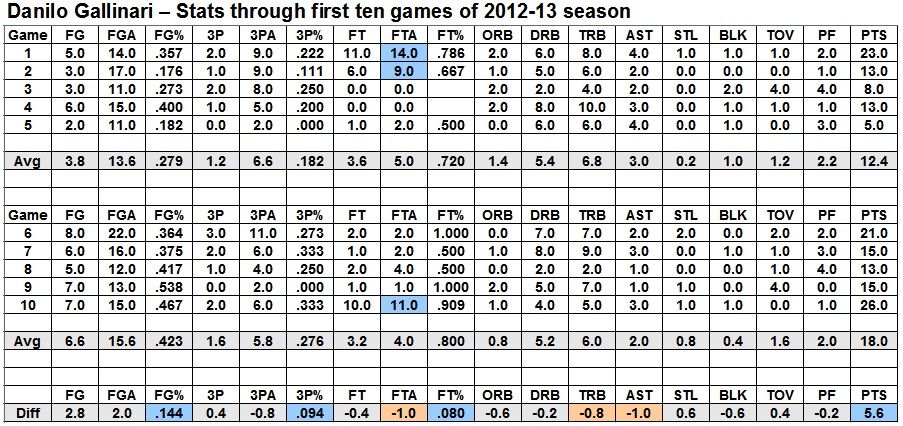 The most encouraging sign is that his dismal shooting percentages have taken a big upswing across the board. Danilo's three shooting in particular is still far short of where the Nuggets need it to be, but it appears we should be cautiously optimistic that his shot may be regressing to the neighborhood of his career percentages. And of course, along with better shooting has come better scoring production, as he's averaging 5.6 points per game more in the last five games.
Gallo's eleven trips to the charity stripe in Memphis were another huge positive, but unfortunately that game was an outlier. In seven games prior to that, he averaged a measly 1.6 free throw attempts, in comparison to 4.9 last season, and 6.3 the season before. It's absolutely imperative for him to get back to driving to the basket and getting to the line, so let's hope this last performance will jump start that dimension of his game.
He has slipped slightly in assists and rebounds in the most recent five games, but if this is a byproduct of focusing on getting his shot going again, it's well worth it for now. Overall, Gallinari does appear to be moving in the right direction, recovering his shooting form and getting his game back on track.
The Nuggets may not need a "superstar" per se, but at the end of the day they need guys who can put the ball in the bucket and points on the board. Gallo has to lead the team on that front, and if he can regain his consistency and a more aggressive mode of play, it may well help some of the others (looking at you Ty Lawson and Andre Iguodala) to get back on track as well.
The following two tabs change content below.
Joel is a long time Denver Nuggets (and Broncos) fan from Colorado who's been living in Japan since the mid-90s, and blogging about the Nuggets since 2008. You can contact and follow him on Twitter: @denbutsu.
Latest posts by Joel Rush (see all)