To preface, let me just say that I'm working with merely a two-game sample size thus far. As more information comes in, which is to say as more games are played, this picture will come into sharper focus.
That said, what has quickly come abundantly clear since Wilson Chandler's recent return to action is that Karl intends to deploy him heavily in the regular rotation. At least in the ballpark, that is, of players such as Corey Brewer and JaVale McGee. He's unquestionably in the mix.
For those Nuggets fans who were looking forward to seeing increased minutes from the likes of Jordan Hamilton, Evan Fournier and Julyan Stone as the season deepened and their development progressed, I'm afraid you (we) may have to put those hopes to rest. It would appear that Karl has his guys.
Notwithstanding a trade that removes current rotation players from the roster, based on what we've seen so far we should expect the minutes of deeper bench players to evaporate altogether. George Karl is a creature of habit. His apparent aim – and he seems already to be working towards it – is to pare the regular rotation down to a tight nine players.
In actuality, he'd probably prefer to make in eight, but the dilution and diversity of talent, along with the depth of the roster, make that practically impossible.
Here is how, on average, the minutes have shaken down since Chandler's return (adjusted for overtime):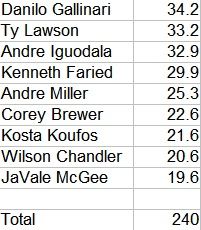 This will not be an entirely static picture. In all likelihood, Chandler will soon be receiving a large enough share of minutes to bypass Koufos and Brewer. And among any of the players who are within the same tier in the distribution, minor shifts will be ongoing. Lawson could move slightly past Gallinari, for example, but both will remain in the top two or three.
More importantly, though, is that in the larger picture Karl looks to have tipped his hand and shown us the 9-man core rotation he intends to ride from here on out and into the playoffs barring trades and injuries. More than likely, this all was settled in his mind well before Chandler's recovery, and he's just now implementing the team he'd been planning for since before training camp.
I admittedly am reading a lot of information between very few tenuous lines, and it will take some time for the reality of Karl's minutes distribution to unfold. In the meantime I'll keep tracking the data and, after more games have been played, update the above table so we can see if this projection holds water.
The following two tabs change content below.
Joel is a long time Denver Nuggets (and Broncos) fan from Colorado who's been living in Japan since the mid-90s, and blogging about the Nuggets since 2008. You can contact and follow him on Twitter: @denbutsu.
Latest posts by Joel Rush (see all)