The Denver Nuggets got off to a fairly rough start at the beginning of the season. Sure, they had one of the most brutal opening schedules of any team in the league, but the problems appeared to run deeper than that. Players like Ty Lawson and Danilo Gallinari, who Denver was counting on to provide perimeter shooting that would space the floor, came out cold as ice.
The Nuggets started off right there in the hunt for being the worst team in the league in 3-point shooting and free throw shooting, and their defense, which was supposed to get a boost from the addition of Andre Iguodala, was flailing. They just could not seem to get it together, and it looked like Denver had team problems which ran much deeper than a tough schedule.
Then around mid-December, things started to turn around. Even before the Nuggets reached the easy January stretch in which 12 of 15 games were played at home, they started discovering winning ways that have resulted in a blistering 21-6 (.778) record since Dec. 14. (By comparison, the two current top teams in the NBA, the Spurs and Thunder, have season records of .780 and .755 respectively.)
During last night's broadcast of the Bulls-Nuggets game, TNT's Reggie Miller called the Nuggets "one of the best teams in the Western Conference," and they surely have been playing like it recently. Whether they can maintain this momentum as their schedule becomes more difficult again in March and April remains to be seen, but one thing is for sure, Denver has, at least for now, put to rest many of the worries that troubled the fans early in the season.
Here we will look at how individual players performed over the first three months of the season in four statistical categories: effective field goal percentage (eFG%), true shooting percentage (TS%), rebounds per 36 minutes and assists per 36 minutes. Much of this will not be so surprising for the avid, observant Nuggets fans that comprise Roundball Mining Company's readership. There are some worthwhile observations to be made, however. And additionally, it is just kind of nice to see the player data on charts to more easilly see how they stack up to each other. I have limited the scope to the eight players who have played over 800 minutes this season.
Effective field goal percentage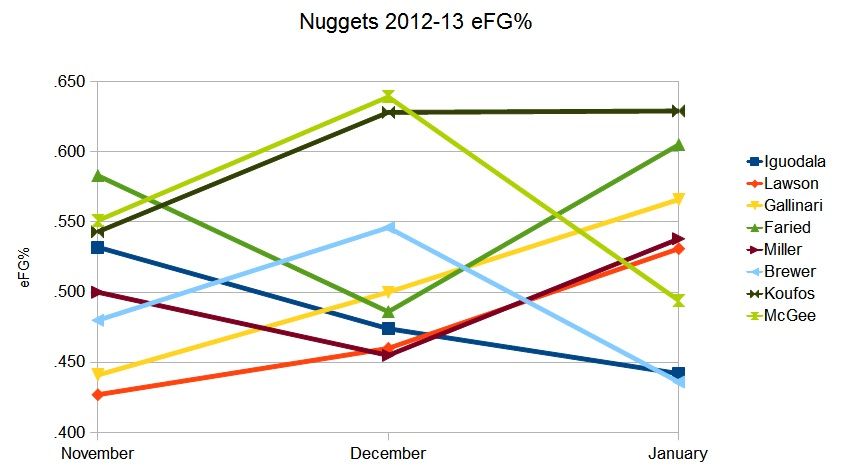 As mentioned above, poor 3-point shooting has plagued the Nuggets this season. In looking at eFG%, which takes into account 3-point shooting, we can see some mostly good but slightly mixed news for the Nuggets.
The big story here is that Gallo and Lawson have been on a consistent trajectory of improvement since the beginning of the season. These two have each taken 639 of Denver's 4258 total field goal attempts, combining for 30 percent of all shots taken. Despite many other players' shooting either being inconsistent or getting worse, the value of the two players shooting the most continuing to improve has outweighed those drags – judging, at least, by Denver's continued march up the NBA's offensive efficiency rankings, where the Nuggets are now fifth at 106.5.
The meme of "this team would be great if they could all just click at the same time" has been sounded regularly this season. This chart really drives home the extent to which their ups and downs have been out of synch. Most noticeable is December, when JaVale McGee and Corey Brewer hit peaks while Kenneth Faried and Andre Miller hit valleys. The Nuggets offense has been mostly fantastic over the past few weeks, but if Andre Iguodala, McGee and Brewer find a way to get their percentages back up, while the other players maintaining theirs as well, it should be downright dominant.
True shooting percentage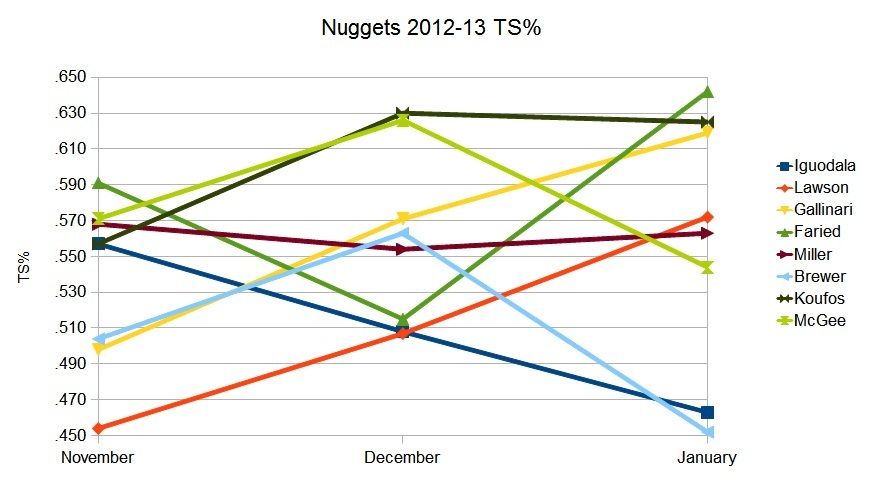 In addition to 2- and 3-point field goals, true shooting percentage also factors in free throw shooting. While the basic pattern of this chart is largely similar to the first one above, a few things are worth noting.
Again we start with Lawson and Gallinari. You can see how much sharper their upward trajectory is here than on the eFG% chart, and that is a reflection of both players' improved free throw shooting. The Nuggets remain at the bottom of the heap in free throw shooting percentage (only the Lakers are worse), but when the two guys who get to the line the most – Lawson and Gallo have combined to take 33 percent of Denver's free throw attempts this season – it makes a big difference.
In a couple more promising signs, Faried's improved free throw shooting in January propels his TS% over that of Kosta Koufos, who has the higher eFG%. The same is true for Lawson with respect to Miller.
But not all the news is good. It is no surprise that McGee will struggle with free throw shooting, but there is really no accounting for how hard Brewer and Iguodala dropped off in both free throw and 3-point shooting from December through January:

This season, these two are combining for 40 percent of Denver's 3-pointers and 22 percent of their free throws. Obviously, nobody expects either of them to be Ray Allen, but to be around .250 in 3-point shooting and .520 in free throw shooting as a small forward or guard who takes the number of attempts they do ventures deeply into inexcusable territory. While it is true that defense remains where the Nuggets have the most improving to do, March and April could get pretty tough for the Nuggets if these guys can't find a way to get their percentages up.
Much was made of Faried's recent five-game stretch without a double-double, his longest of the season, which included his only scoreless game. And the most eye-catching thing about this chart is that, nearly to a man, the rebounding of nearly all of the Nuggets' players declined from December through January. Faried, Koufos and Brewer in particular took noticeable (if modest) dips, while McGee stagnanted, and Iguodala and Gallo continued their subtle slide.
None of this should be all too surprising, however. The Nuggets are an excellent offensive rebounding team, with an offensive rebound rate of 31.7, second in the league. On the other hand, they are a fairly shoddy defensive rebounding team. Their defensive rebound rate is 71.8, just 26th in the league. In other words, a larger share of their total rebounds comes from offensive rebounds than most other teams. As such, as the team's overall shooting improves, we should expect to see a reduction in rebounding simply because there are not as many missed shotsavailable to grab.
As a final note note on rebounding, we would really like to see JaVale get his numbers up above 10 per 36 minutes. With his height, athleticism and skill, there's really no excuse for him to be pulling down boards at a slower clip than Koufos.
I was critical earlier of Iguodala and Brewer for their shooting, but here it deserves to be balanced by some due praise. It is to both their credit, and speaks highly of their basketball IQ, that their assists have risen as their shooting percentages have fallen. Whether this is due to a conscious effort or not is anyone's guess, but they should probably be given the benefit of the doubt for recognizing that, when they're struggling with their shot, they need to focus more on being effective in other ways, and in this case by distributing the ball more.
And in general, Iguodala deserves recognition for being third in scoring, third in rebounds and third in assists for the Nuggets. It is not just a cliché; he really does do some of everything.
It is also good to see Faried slowly creeping towards two assists per 36. Of course, he and JaVale are finishers, so more often than not they're expected to go to the basket rather than find a teammate. But they both end up with the ball in their hands often enough that it would really benefit not just the team offense as a whole, but also their individual games (in terms of keeping defenses honest), if they could dish it out a little bit more, especially when they get into trouble down low (I posted an RMC Film Room piece on this topic regarding McGee earlier this season).
Denver's February schedule is less home-friednly than January's, but it is still quite favorable. Hopefully the Nuggets players who are struggling in various ways can use this time as an opportinity to beef up their game before hitting the final stretch of the season and, more importantly, the playoffs. If they can, Denver stands a fairly good chance of getting into the second round of the playoffs. If they can nab the fourth seed, they will take a homecourt advantage into the first round against most likely either Memphis or Golden State, both of which have proven to be quite beatable opponents this season.
(Stats from Basketball-Reference.com, ESPN.com and NBA.com)
The following two tabs change content below.
Joel is a long time Denver Nuggets (and Broncos) fan from Colorado who's been living in Japan since the mid-90s, and blogging about the Nuggets since 2008. You can contact and follow him on Twitter: @denbutsu.
Latest posts by Joel Rush (see all)