A little over two months ago I posted a video piece on Andre Miller's clutch play that helped seal Denver's victory against the Indiana Pacers on Dec. 7. With eight points and an assist in just 104 seconds, Miller poured it on in crunch time to lead the Nuggets to a big road win at a time when they were struggling.
Unfortunately, we are back in the Film Room today to visit what essentially was the opposite scenario. In their heartbreaking road loss to the Celtics on Feb. 10, the Nuggets were down just two points with 48 seconds remaining in the game's third overtime when Miller retrieved the rebound off a missed Kevin Garnett jumper. And as every Nuggets fan not living under a rock is well aware, from there the train rapidly derailed from the tracks.
The Film Room video, followed by analysis of Miller's play and George Karl's coaching, is after the jump.
Miller tries to force a post-up, turns the ball over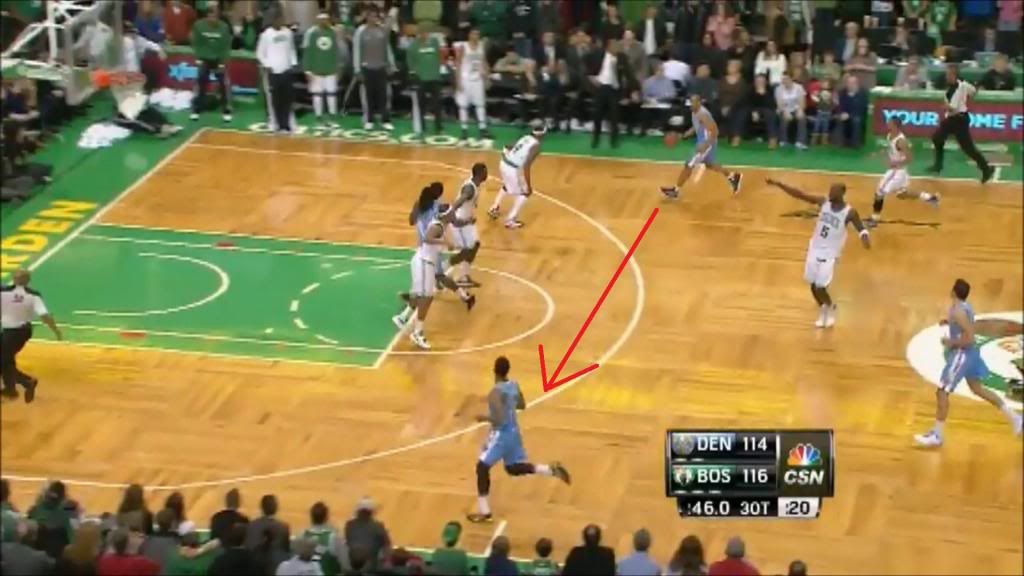 As the play unfolds, three Celtics defenders are crunched together at the top the key, leaving Wilson Chandler completely alone on the weak side. Instead of dishing off to Chandler, who could have taken a wide open 3-pointer, driven to the basket largely unimpeded, or dished it off to Danilo Gallinari for a higher percentage 3-pointer or a drive attempt, Miller dribbles the ball straight into a very ready Jason Terry, and the teeth of Boston's defense.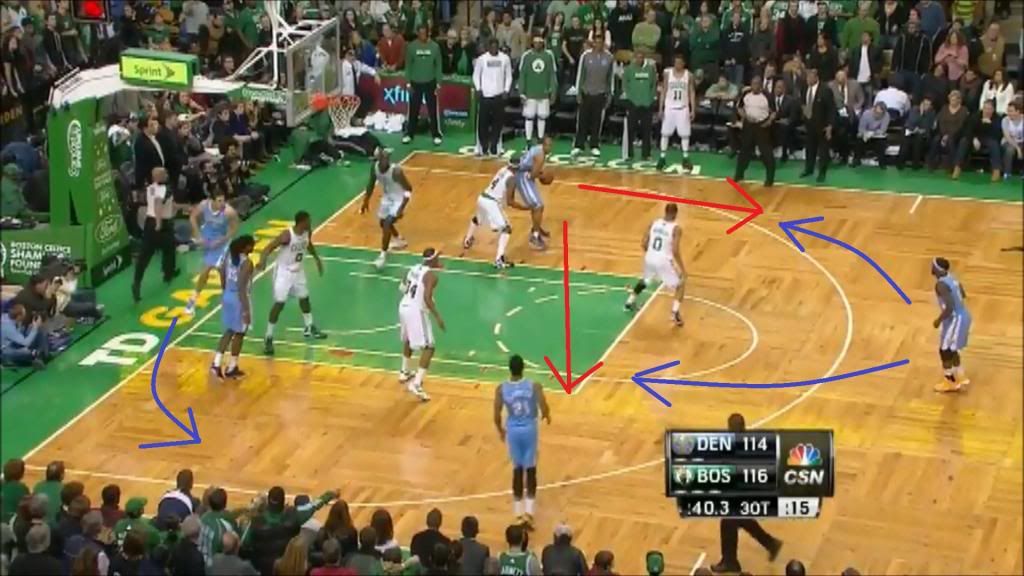 Miller luckily recovers the ball after having it swatted away by Terry, who is doing an excellent job of hounding him as he attempts to post up. At that point, he has several options. He could dribble back out the perimeter and reset the play himself, or call Ty Lawson over to the wing and pass it to him for the same purpose (with 15 seconds on the shot clock there was plenty of time). Or, from his position in the high post, he could either call for Ty to cut, or pass across to Chandler, who in turn could either take a wide open 3-pointer, pass it to Lawson, or pass it to Gallo, who is in the process of curling along the baseline to the weak side. Instead, he fails to learn the lesson of Terry having knocked the ball out of his hands once already. Alas, determined to post up and get a shot for himself, Miller once again plays straight into the hands of his defender and promptly loses the ball. This costs Denver a possession in which they could have tied the game or taken the lead.
Miller jacks up a tightly contested 3-pointer for the loss
The salient point to remember about the final Nuggets possession is that Andre Miller is a .211 3-point shooter. This literally is the worst, lowest percentage shot that the Nuggets could take. (Within reason, of course. While Faried shooting a 3-pointer would be even worse, that realistically would never happen anyhow.) Among all shots Denver might plausibly decide to take, Miller chose the one which was unquestionably the most likely to fail. This needs to be kept on the front burner as you read through the rest of this.
After Chandler does a great job of contesting Paul Pierce's jumper and forcing the miss, Faried rebounds and passes the ball to Miller. I'm not sure if Kenneth didn't see Lawson, chose on his own to pass to Dre, or was directed by the coaches to do so. But here's a memo to the Manimal: AGL. When the option is there, Always Go Lawson.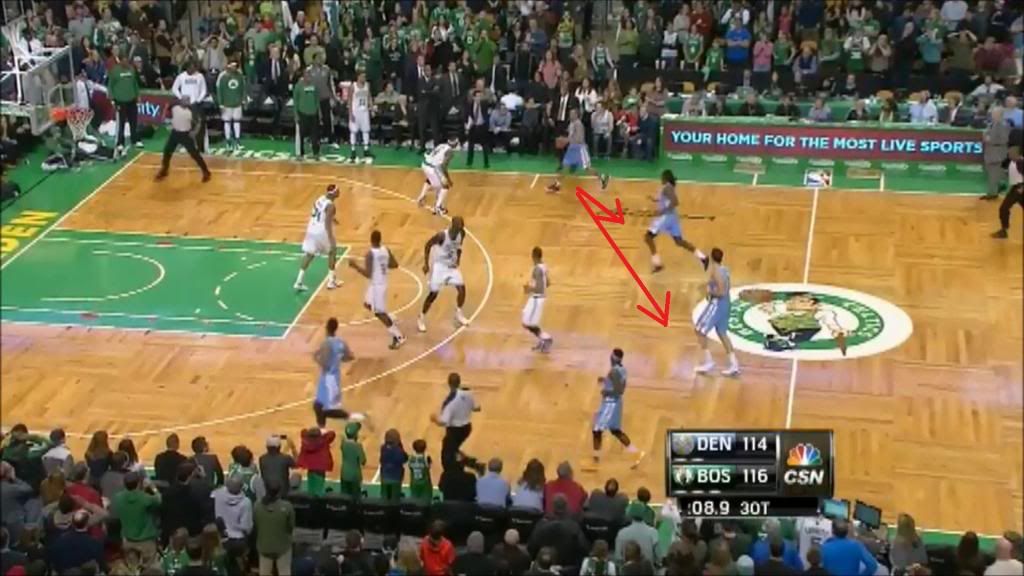 Had Miller been looking for his teammates instead of straight ahead at the basket, he might have noticed that once again Boston's defense was converging around the top of the key, and leaving other Nuggets players open. Dre had the option to open up the play by getting the ball to the weak side via Faried or Gallo. But not only did he fail to pass the ball, he wasn't even close to looking for another option.
Had Miller come to the realization that he was about to make a terrible play and pulled up on his shot at the last second rather than firing away, he might have found a way out. By way of Gallinari, one of three teammates who were better positioned and less well defended were all hands up and waiting to take Denver's final shot. But once again Miller was determined to take the shot himself.
Keep in mind folks, this is the smartest, most seasoned, most trustworthy and least selfish player on the Denver Nuggets roster. At least according to one person.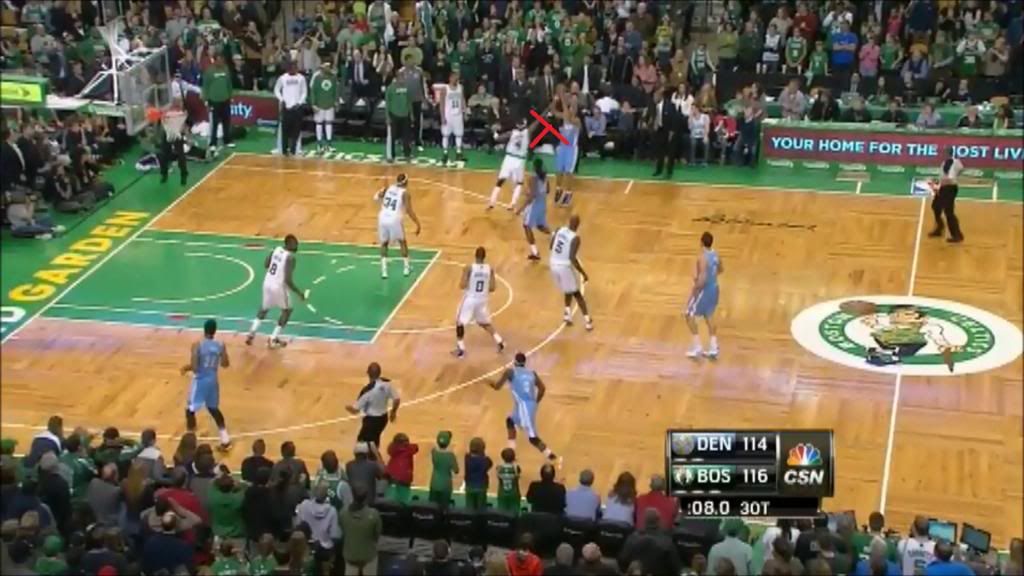 But once again (alas!) he opted not to pass the ball to a teammate with a better look, and instead played right into the defense of Jason Terry, who deserves high praise (painful as it may be for Nuggets fans to offer it) for his clutch defensive efforts. And it was… Game. Set. Match.
Originally titled: "Final thoughts"
More appropriately titled: "This is inexcusable"
One additional point that needs to be made is that there was not a center on the floor in those final possessions. With the exception of Andre Iguodala, who gets a big chunk of his at-rim shots in transition, the two Nuggets players with the highest field goal percentage five feel or less from the rim are JaVale McGee and Kosta Koufos. The fact that neither of them were in the game for a potential easy lob or dunk was a major coaching failure. I would call it an oversight if it weren't for the fact that we know from experience that this was quite deliberate on Karl's part. George grooves hard on no-center finishes.
As for Andre Miller… Well, what can you say?
There has never been a successful demonstration of psychic abilities under controlled, replicable conditions, and I certainly do not claim to have any such powers myself. So I will not claim that Miller "sabotaged" this game deliberately, or try to read motive into his body language, or otherwise attempt to second guess about why he chose to do what he did on these last two plays of such a huge game. I have no idea. I hope, at the very least, he was deluded enough to think that he had his team's best interest in mind.
What I have absolutely no qualms about saying, however, is that both plays were not only obscenely selfish but utterly stupid. He clearly had no intention on either play of finding any of his teammates a better shot than he might get for himself. He was purely looking to shoot, hell bent on posting up in the first play, and blatantly not even going through the motions of looking to pass before launching the clank heard around the world in the second.
To add insult to injury, George Karl actually praised Miller for that miserable 3-point attempt:
The last shot on Andre, I think Andre wanted to win the game. I know you can question that shot, but in a sense I kind of liked it. I like to have a guy on my team that has the guts to take that shot.
Many Nuggets fans have long bashed their heads against the wall over Karl's maddeningly illogical player favoritism, but this takes it to a whole new level. It is downright insulting to our collective fan base intelligence. As caring, knowledgeable, observant basketball aficionados, it's worse than a sucker slap in the face from Melo followed by a Reggie Evans nutgrab.
Well. That may be a slight exaggeration.
But I will say it again because it bears repeating:
The salient point to remember about the final Nuggets possession is that Andre Miller is a .211 3-point shooter. This literally is the worst, lowest percentage shot that the Nuggets could take.
If Karl genuinely "kind of likes" that shot, then all we can hope for right now is that Masai Ujiri is sitting in the Nuggets front office discussing with Josh Kroenke whether Karl's obsessive affection for Miller has become so unhealthy that he can no longer be considered competent enough to coach this team.
Everything that Karl constantly praises about Miller: His smarts. His wisdom. His veteran savvy. His selflessness. If Miller is prepared to throw all of that out the window at the cost of his team's success in order to play hero ball at the most crucial juncture of a huge road trip going into All-Star break, then Karl must be prepared to take the same kind of punitive action against him that he would (and has) against the likes of JaVale McGee and Jordan Hamilton for making similar mistakes. Benching him for one or more games. Limiting his minutes. Decreasing his role and increasing Lawson's.
But if Karl instead not only gives him a free pass but actually glorifies the crap Miller pulled in Boston – and it indeed was crap – then his credibility as a coach who manages his team judiciously, with high standards that are applied equally to all players across the roster, must be called into question. And whether keeping him on board as the head coach of the Nuggets is the best thing for their present and future must be called into doubt.
I have never really been big on the "Fire George Karl" bandwagon, and I certainly do not believe that he is the only reason for the struggles the Nuggets have faced this season. And it may seem crass to raise such a stink over the first loss on the heels of a nine game winning streak. Running a major professional sports franchise is a complex operation, and responsibility is borne – though not in equal parts – by all its members, including the players.
But here, to me, are the pertinent questions: What kind of a message does it send to the players – let alone the fans – for Karl to condone – and worse, promote – Miller's markedly selfish end-of-game play in Boston? How sustainable can such a situation be when it comes to preserving harmony and morale in the locker room? We have already begun to see the first cracks appear, and not insignificantly, it was Andre Miller who exposed them in his recent expression of dissatisfaction with his role coming off the bench and limited playing time.
And have the Nuggets performed so well this year after their poor start because of Karl's coaching, or in spite of it? Many of their recent wins (Indiana and Milwaukee come to mind) point to talent overcoming a lack of proper preparation, and luck overcoming the excessive use of small ball no-center lineups to close out games.
All Nuggets fans should hoipe for is that the front office to assemble the best possible roster, and that the coaching staff – with the head coach leading the way – maximize its potential. And when it comes to the latter, when veterans are rewarded for making dumb, selfish mistakes that young players are punished for (despite those mistakes being merely a part of their developmental process), how much confidence can we have that Karl is really getting the best out of this team?
And when such coaching blunders cost the team precious wins that could well make the difference in having home court advantage in the playoffs, how much confidence can the players have in the leadership of their leader?
My confidence, regarding both questions, is waning.
The following two tabs change content below.
Joel is a long time Denver Nuggets (and Broncos) fan from Colorado who's been living in Japan since the mid-90s, and blogging about the Nuggets since 2008. You can contact and follow him on Twitter: @denbutsu.
Latest posts by Joel Rush (see all)