"The greater danger for most of us lies not in setting our aim too high and falling short; but in setting our aim too low, and achieving our mark."
– Michelangelo Buonarroti
Last week in a breakdown of the remaining schedule I wrote about the importance for the Nuggets of winning road games at a higher percentage and how their success or failure in that regard will most likely define them as a team.
One point I should have included but failed to make is that the Nuggets have in fact improved – albeit modestly – their road performance over the course of the season. On the surface this may come as little surprise, given their mercilessly road-heavy November and December. Early in the season, however, it remained an open question whether Denver would perform better away from Denver once their schedule became more friendly and road games were not so thickly concentrated.
That question has now been answered in the affirmative. The Nuggets have indeed made ascertainable progress as the difficulty of their schedule has eased off. In 2013 their road record is an even .500 with five wins and five losses. From the beginning of the season through the end of December, they went a measly 8-14 (.364).
So in purveying the remainder of the schedule, and considering realistic expectations for how the Nuggets should close out the season, it's important to keep this context in mind as a backdrop: Denver has already been getting better at finding ways to win on the road. The progress is visible in graphing the progression of the Nuggets' road game winning percentage over the course of the season.
***[UPDATE: Big thanks to RMC reader Jay McCoughlan was kind enough to send me improvements on the graphs I made. He used moving averages in order to show, as he put it, "how they are doing recently instead of taking into account the entire season." Thumbnails of his graphs are below mine. Please click to enlarge. The yellow lines depict what was shown in my graphs, and the blue lines Jay's updated moving averages. Notice that in both cases the moving averages show an even more robust improvement in Denver's road success than mine had indicated.]***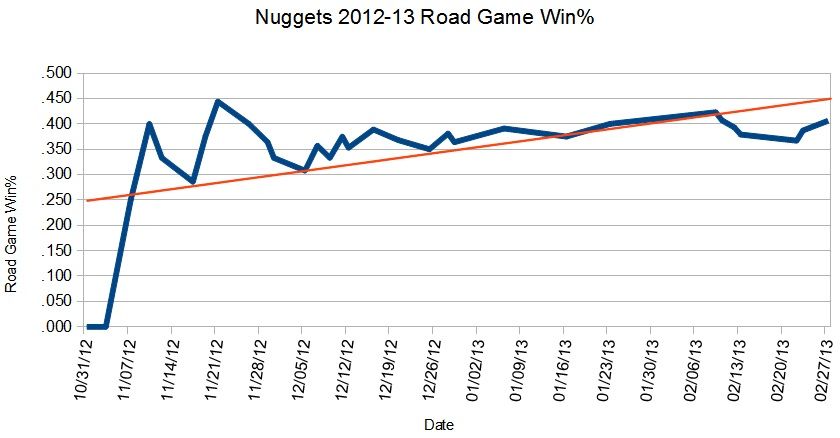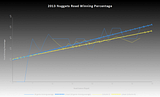 Caveat: I'm no mathematician, and the trend line in the graph is the default "linear" trend line in my spreadsheet program. You can access the original document here, and if anyone with better math skills than me (which is probably most of you) can offer insight as to whether a different algorithm would portray a more accurate picture, your feedback would be most welcome.
I was concerned about this, so I made a second graph with the data from the first three road losses excluded, as it looked to me like it could be having an outlier effect and skewing the line: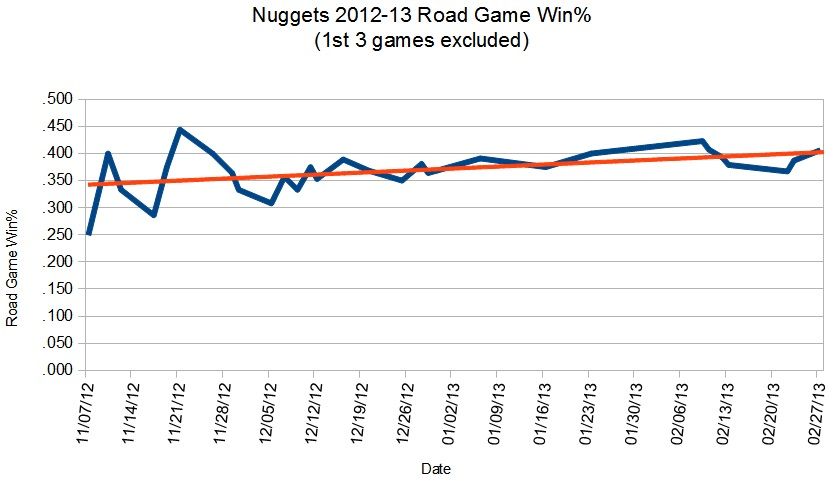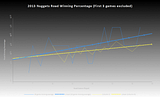 As you can see, with those first games excluded the trend is less pronounced, but still indicates a trajectory of improvement. Now, it would not be reasonable to expect the trend – whether it's closer to the sharper incline in the first graph or more gradual like the latter – to continue indefinitely. It should presumably plateau at some point, although there may not be enough road games left this season to get a really good sense of where.
But assuming Denver's road winning percentage were either to hold steady at around .400-.450, or perhaps continue improving at least slightly before leveling off, then at a point when the Nuggets had ten road games remaining, it would be reasonable to expect that they should win four or five of them, or perhaps even more considering that six of those ten games would be played against lottery-bound teams.
Enter George Karl.
On Feb. 27, Christopher Dempsey of the Denver Post reported on Karl's assessment of how well the Nuggets would need to perform on the road to close out their season successfully:
We have not been as bad of a road team as people want to make it out to be. We've been a special home team. It's how do you get to 52 or 53 (wins)? Some of the analysis … it boggles my mind. Plus, if you win 15 road games, it's usually a good year. I don't care how good you are. Usually the formula is if you win 70 percent of your home games, 50 percent of your road games, you'll get to 50 wins. [emphasis added]
At the time Denver had 12 road wins with 10 road games remaining, and their overall winning percentage on the road was .387. So there are a few red flags being raised here.
Now to be fair, I do not expect Karl to have specific numbers right off the top of his head when being interviewed off the cuff, and I do not want to be overly pedantic about the exact win/loss numbers (though Karl himself seems quite willing to bring them up on his own).
However, it is reasonable to assume that when he made these comments he was well aware of their road record, how many road games they had left, and that winning 15 road games would mean finishing their road games 3-7 – a lowly 30%, worse than they put up in November, their worst road month of the season. And one would hope he also knew that in addition to being a "special home team," their road performance has been improving.
In addition, as I discussed in my previous post on the importance of closing strong on the road, Karl is probably aware that with the trajectory Memphis has been on, 52 or 53 wins will likely not be enough to guarantee the fourth seed and home court advantage in the first round of the playoffs. Instead it probably will take 55 including the tiebreaker with the Grizzlies, or 56 without it.
Of course, we cannot know if Karl is issuing the same message to his players in the locker room as he's presenting to the public. Perhaps he's setting a higher standard for them without letting us in on it. That in itself would be problematic in the sense that, at the very least, he's creating the perception among the Nuggets fan base that settling for less than what his team is capable of is acceptable.
But if it were the case that he is being consistent, and setting the bar needlessly low for his team as well, it would be incredibly disappointing.
Imagine coaches like Gregg Popovich, Jerry Sloan or Phil Jackson demanding anything less than excellence from their players, creating an atmosphere in which "good enough" is good enough. It's unthinkable.
For the league's truly great coaches, a philosophy which accepts as adequate anything less from their players than the highest level of excellence they're capable of achieving would be considered unacceptable. As it would be for NBA organizations like the Lakers or Spurs (to name just two) to commit to anything less than striving for legitimate championship contention.
The Denver Nuggets should hold themselves to these high standards as well, and if they are not, then they're doing a disservice to their fans.
Some have argued that since Denver has just won three very tough games, the fact that they're winning diminishes the importance of this largely speculative and interpretative discussion of Karl's messaging on expectations. I'll readily concede that results count above all else, and that if the Nuggets do end up clhttps://twitter.com/denbutsuinching the fourth seed, not many fans will – or perhaps even should – care about this whole issue.
But even if they do, and I surely hope so, it will only reinforce the folly of Karl setting – or at least appearing to set – his aim too low at a time when his team is proving themselves capable of achieving greater things.
Hopefully behind the scenes he is holding them to a higher standard than his public comments would suggest. But if not, then Karl will have left it entirely on the players to miss his unnecessarily low mark, and meet the higher expectations they should be able to achieve.
The following two tabs change content below.
Joel is a long time Denver Nuggets (and Broncos) fan from Colorado who's been living in Japan since the mid-90s, and blogging about the Nuggets since 2008. You can contact and follow him on Twitter: @denbutsu.
Latest posts by Joel Rush (see all)